Jessica Alba: 'I Won't Spend Time Away from My Daughter Unless It's Worth It'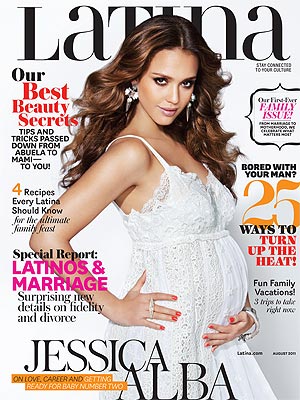 Courtesy Latina
Jessica Alba balances two big "H's" in her life with grace — Honor Marie, her 3-year-old daughter with husband Cash Warren, and Hollywood.
"After I had Honor I didn't leave the house for a while," Alba, 30, tells Latina's August issue.
"It was all about changing diapers and feedings and still trying to get back in to the routine of my [acting] thing. I love what I do. But unless it's worth it, I'm not going to spend time away from my daughter."
"Before I had her, work was all I had," the actress notes. "Now it's not."

The Spy Kids: All the Time in the World star, who shares that she is less anxious during her second pregnancy than during her first, certainly seems to have her priorities straight — so will the actress be adding on to her brood in the future?
"I just have to feel it out," she says with a wink. "See how my 30s treat me. I just try to live in the moment."
Now that Alba is in her third trimester, she's becoming an expert on how to best dress that baby bump.
"If you are sporting a pregnant belly, it's better to show it than to hide it," she explains. "The more figure-forming your clothes, even though you have more curves, the better. I like long, thin sweaters that kind of hide my hips and my booty, so there's not a huge emphasis on how big they're getting."
— Caroline Slutsky