Mary McCormack Keeps It Family-Friendly On Set
As a working mom whose job it is to literally run around all day, usually through the hot streets of Albuquerque, Mary McCormack needs a place to get away.
That place is her trailer on the set of the hit USA drama In Plain Sight, where she stars as U.S. Marshall Mary Shannon.
The actress, 42, welcomes her daughters Margaret, 6½, and Rose, 4, into the cozy, kid-friendly space, outfitted with a child-sized table, bookcase and toy nook, whenever she has a break from scenes.
"They're in school during the day and then after school, they usually come here," she says. "It's nice and they like to be in the trailer."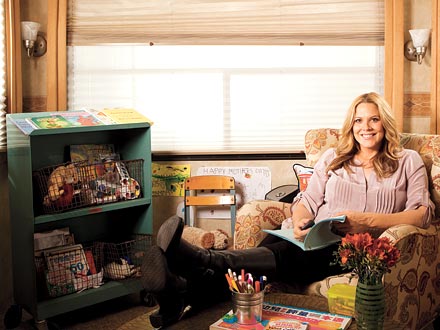 Gregg Segal

The family, which includes McCormack's husband of seven years, producer and director Michael Morris — and a third baby due in September — splits their time between their home in Los Angeles and a home in Albuquerque while In Plain Sight is filming. And while filming often very long days, McCormack finds ways to recharge and connect with her kids in-between takes.
"We draw, paint, read and play hide and seek," she says. "We have pillow fights in the little bedroom. Margaret was 1½ when we shot the pilot and Rose was 8-weeks-old when I came back to work. They've never known life without it."
McCormack says that having the chance to see her kids during the day makes her feel like a very lucky working mom.
"I've nursed babies on-set and in the hair and makeup trailer," she says. "I have girlfriends who drop their kids off in the morning and don't see them until bath time. So I've been really lucky."
Being pregnant is also something she says she feels lucky about. "I am so blessed at my age to be having a baby," she says. "I'm thrilled and it's like a miracle."
Getting to play a pregnant character while she's expecting herself is adding a new dimension to her acting.
"I thought the opportunity was so nice for the character who is not particularly maternal to be faced with a pregnancy," she says. "And it's nice to tune in and see a real pregnant person. This is what real women look like knocked up. It's not all in the tummy!"
For more photos of Mary McCormack on set and in her trailer, pick up the latest issue of PEOPLE, on newsstands now.
— Alicia Dennis