Tori Spelling Guest Stars on Disney's Jake and the Never Land Pirates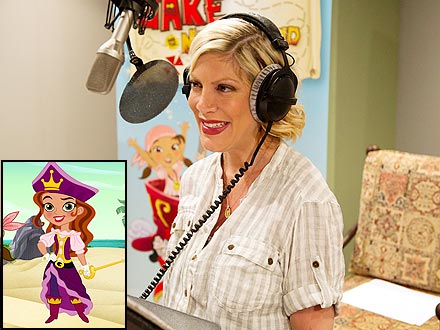 Todd Wawrychuk/ DIsney Junior; Inset: Disney
Tori Spelling pulls out all the stops when it comes to Liam and Stella McDermott's birthday parties, but the mom-to-be gave her kids the ultimate gift when she signed up for a recurring role on Disney Junior's hit animated series, Jake and the Never Land Pirates.
"It's exciting as an actress to do a role you know your 3- and 4-year-old will watch and be proud of," said Spelling. "They have been watching the show and love it and can't wait to see my episodes."

The expectant actress voices the feisty Pirate Princess (above), who loses her rainbow-making wand and enlists the help of main characters Jake, Izzy and Cubby to get it back, in "The Rainbow Wand," which is currently airing on the network.
But that's not the only new thing on Spelling's full plate. Between her new Disney gig and prepping for baby no. 3 — due in October — Spelling has also launched a new online magazine and e-community, ediTORIial, where she muses on her favorite style, food, art and home inspirations. Make sure to check it out at torispelling.com.