Kellie Pickler In No Rush to Have Children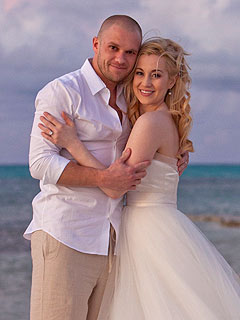 Joe Buissink
Kellie Pickler doesn't understand the point of having kids just because someone else is.
"I don't think people realize … the responsibility that comes along with it. It's almost like a fad," the country singer tells CMT Radio's Cody Alan in an interview airing Monday, when asked if she and husband Kyle Jacobs are thinking of having children.
"I don't know what's gotten into these kids where they feel like they have got to have a baby because their friend has one or whatever," Pickler, who turns 25 on Tuesday, says.
"They don't take into consideration that it's a very selfish thing to do if you're not prepared and ready."

Pickler says she and Jacobs, who got married on New Year's Day in the Caribbean, are stable enough to handle it. But that doesn't mean they're in any rush.
"I take that very seriously, and when Kyle and I are ready, then we will maybe cross that bridge if it ever gets here," she says. "Maybe life gives us a surprise, but we're married and we have stability in our lives, so if that does happen, we are prepared."
CMT Radio Live with Cody Alan airs weeknights from 7 p.m.-12 a.m. EST.

— Tim Nudd