Ian Ziering's Blog: Meeting My Daughter Mia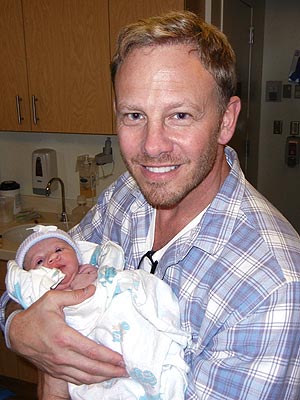 Mia and me on her birth day – Courtesy Ian Ziering
Please give a warm welcome to our newest celebrity blogger — Ian Ziering!
The Beverly Hills, 90210 alum recently welcomed his first child, daughter Mia Loren, with wife Erin.
Ziering, 47, is currently in New York City working with Nu Skin, and will soon be appearing on Fran Drescher's new TV Land show, Happily Divorced.
He can also be found online @Ian_Ziering on Twitter.
In his first monthly blog, Ziering looks back on 9-week-old Mia's birth and reflects on his first two months as a dad.

It was a textbook birth experience. After 12 hours of labor, Erin delivered the newest Ziering, Mia Loren, on April 25. I was right by her side every second of the way. Erin's mom and a picture of my late parents were also in the birthing room with us. The last hour seemed to pass in an instant, each contraction bringing us closer to seeing our girl.
I was in awe when Mia began to emerge. No matter what you have seen before — whether in biology class or National Geographic — nothing can prepare you for looking at your own child for the first time. The doctor put Mia right onto Erin's chest, where her first cry was quickly soothed by her mother's embrace. I've seen some incredible things in my life, but nothing compared to seeing this.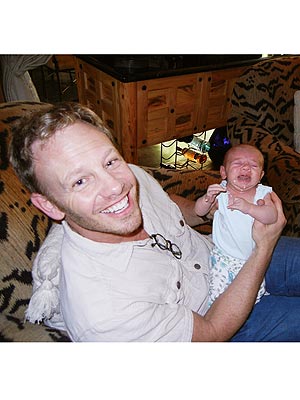 First time Mia threw up on me! – Courtesy Ian Ziering
After I cut the umbilical cord, Mia was taken to be weighed. 7 lbs., 6 oz. of pure love was then swaddled and placed in my arms for the first time. As I took a moment to gaze at my daughter, I was overwhelmed with joy.
I stopped in front of my parents' picture, as if in some way I could show them baby Mia. I knew this was going to be a tough moment for me. I braced myself, stood basking in the love from their smiling faces and wept. They would be so, so proud.
Mia was named after my mother Mickie. It's a tradition in my family to name children after the loved ones that are no longer with us. If we had a boy, we would have chosen a name to honor my father Paul.
I brought Mia back to Erin, where she stayed comfortably for the rest of the night. Both baby and mother slept the most beautiful sleep.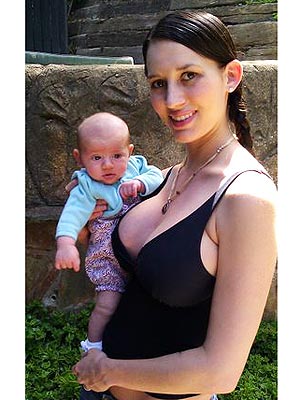 Mia and mama Erin – Courtesy Ian Ziering
Two days later we drove home. I have never driven so slowly in my life! As I looked into the rearview mirror, I saw Erin comforting Mia in her car seat. A rush of emotion overcame me and again tears welled up in my eyes.
I was looking at my family now. Not only was I a husband, but I was a father! I had started a new branch on my family's tree. Erin suggested I pull over but I insisted these were tears of joy. "Baby, these kind of tears happen when love overflows the body — I'm okay," I told her.
Now that we're home and settling into our new life, we're managing as well as can be expected. Thanks to my mother-in-law Nina, the first two weeks at home went really well. It was great having someone there who had experience with newborns.
Having three children herself, Nina showed us all the things you don't learn in baby classes. I can now change a diaper with ninja speed, swaddle with Zen archer accuracy, and burp Mia with the delicate touch of a Wild West safe cracker.
Erin needed no instruction. She has taken to mothering like a fish to water. She is incredible. Erin is so loving, so caring … she is everything I needed in a wife, and everything I wanted in a mother to my children. My cup floodeth over.
Our hope is to have more kids in the future. I'd like a dozen more but Erin thinks the number will be closer to two or three … Yes, dear. 😉
— Ian Ziering