K&J Tees: Stylish, Sun Protective Tops Your Kids Will Love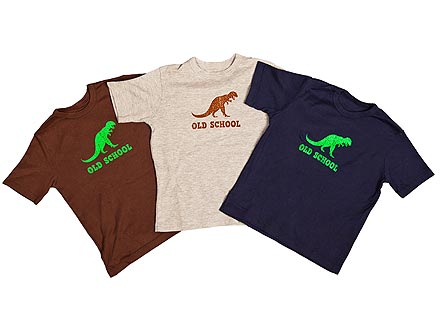 Courtesy K&J Sun Protective Clothing
Since becoming a dermatologist, Dr. Mona Gohara (below) has made it her mission to educate the public about the dangers of skin cancer, especially among people of color.
Her solution: start protection at an early age because just one blistering sunburn or five non-blistering sunburns in childhood double the lifetime risk of developing melanoma, a potentially fatal form of skin cancer.
And since babies under 6 months aren't supposed to wear sunscreen, proper coverage is key. But most children's clothing doesn't provide adequate protection during everyday play. And it wasn't until she welcomed sons Kiran, 4½, and Jai, 2½, that Dr. Gohara realized the dearth of stylish sun-blocking options available.

So the mom-of-two created K&J Sun Protective Clothing, a line of adorable cotton T-shirts that block out 99 percent of the sun's harmful rays without using harmful chemicals.
Even better? They're tagless so they won't bother kids with eczema and sensitive skin.
Available in sizes 0 months to 6T, it features cool, kid-friendly graphics (ballerinas, dinosaurs, guitars) in rich colors including heather gray, navy, pink and chocolate brown.
Want to see more of the collection? Go to kjsunprotectiveclothing.com. Plus, check out Dr. Gohara's tips to getting chemical-free sun protection for your kids below: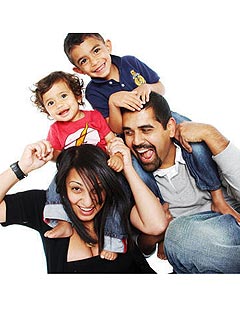 Courtesy Dr. Mona Gohara
Stock Up on Gear Babies 6 months and under should wear sun protective clothing, broad brimmed hats and UV protectant wrap around sunglasses during everyday play and at the beach/pool. A stroller canopy should be a must on every expectant mom's registry list! Look for clothes with a tight weave and dark/bright colors — they provide superior protection.
Be Smart With the "Screen" For tots 6 months and older, apply a broad spectrum (protects from UVA and UVB) SPF 30 sunscreen over their entire body a half an hour prior to outdoor play. Then, reapply over the entire body every two hours or after excessive seating or swimming. Choose chemical-free lotions such as La Roche-Posay Anthelios 50 Mineral Ultra Light Sunscreen Fluid, which is super light and paraben free.
Special Thoughts for Special Spots Use a SPF stick for your child's eyelids (to avoid product running into the eyes) and lips. My personal favorite: Vanicream SPF 30 Lip Protectant.
Seek the Shade Find shaded areas in the park or playground between the hours of 10AM. and 4PM when the sun is at its strongest, as this is when most of the damaging sunrays can wreak havoc on your child's skin.
Don't Forget the Ride Ultraviolet light easily shines through car (or home for that matter!) windows so make sure to place UV blocking shields on windows your children are exposed to. This will help them avoid passive, intense sun exposure that can lead to skin cancer later in life.