Niki Taylor: Burney Lamar Is the 'Best Father'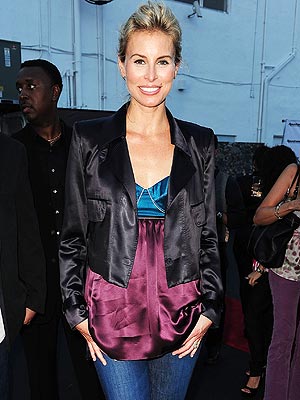 Gustavo Caballero/Getty Images
When Niki Taylor's daughter Ciel sees her mom each day, she points and says excitedly: "Baby inside! Baby inside! Mom has to go to the doctor to get it out!"
Now 4½ months pregnant, Taylor, 36, is as excited as the 2-year-old over the news that she and race car driver husband Burney Lamar, 30, will welcome another child this fall.
"Burney is the best father, and I am so blessed to be expecting again," Taylor tells PEOPLE while in Miami's Design District Thursday to shoot her advertising campaign as the face of Opustone Natural Stone products.
"Our life is all about family and home, and we love being parents. So we are both super excited."

Adds Lamar, who joined his wife in the new modern stone showroom: "Ciel loves planes and wants to be a pilot like me. She has also watched me race cars on television and loves the sport. She's an amazing little girl with a big brain."
Taylor announced her pregnancy via Twitter last month by posting a photo of herself holding an ultrasound image.
"I announced it by Twitter because I didn't want a big story about it — I just wanted to share the news myself," Taylor, also mom to 16-year-old identical twin boys Hunter and Jake, tells PEOPLE. "We are so over the moon!"
The couple are now in the process of building a new house about 20 minutes outside of Nashville, where they are downsizing from their current two-story home on seven acres.
"We decided to simplify our lives now that we are going to have another baby," Taylor explains. "We are building a one floor farmhouse. And since we mainly use the kitchen, living room and bedroom of our current home, we decided to go smaller this time because it's more practical. We hope to have it finished before the baby comes in early November."
Meanwhile, in addition to Taylor balancing her work for Opus, the American Red Cross, and other interests with her family life, both she and Lamar share in the duties of taking Ciel to preschool, where the toddler has made fast friendships.
However, once home, Ciel rules the roost!
"Ciel is a good listener and when she is home, she is the boss of the house," Taylor laughs. "The boys get a kick out of her, and she keeps us all active with her energy for swimming and swinging. She is amazing and wise beyond her years!"
Taylor believes her family life is solid because she and Lamar blend their different strengths together.
"He is strong in areas where I am weak and vice versa," she explains. "While we both come from families with parents who are close and have had long strong marriages, we are opposites in certain areas. But we love each other and our kids, and it really works."
— Linda Marx