Family Photo: The Preston-Travolta's Parisian Pose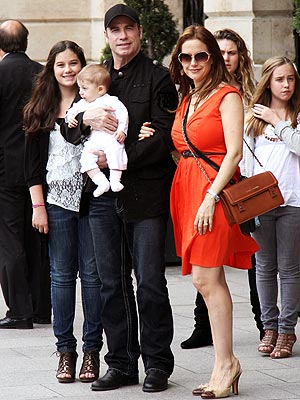 Flynet
And they're off!
After sightseeing with the family on Father's Day, John Travolta and his crew — wife Kelly Preston, daughter Ella Bleu, 11, and 7-month-old son Benjamin Hunter Kaleo — stick together while leaving the Ritz Hotel in Paris on Thursday.
Looking great, Preston, 48, credits her quick bounce back after baby to one thing: breastfeeding.
"I haven't been working out. At all," she said.
"I've been lucky because I've been breastfeeding so that's really helped me lose the weight. That really is the secret."
RELATED: Kelly Preston's Post-Baby Body Secret? Breastfeeding