Go the F— to Sleep: A Funny Book for Parents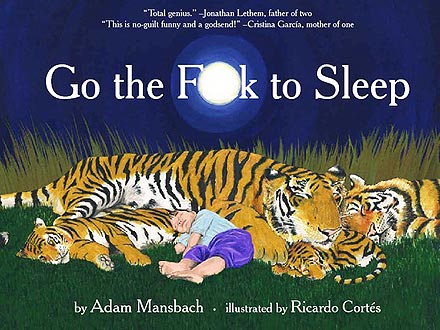 Courtesy Akashic Books
When Adam Mansbach initially sat down to write Go the F— to Sleep, he was looking for a fun way to deal with his baby daughter Vivian's refusal to go to bed. What the novelist didn't realize is how much the book would resonate with other parents. Before it even went to print, the funny tome made it on the New York Times bestseller list.
"I gave a reading from the book on April 23, months before it was to be published in October, just to try it out. The reaction was so strong," Mansbach told Metro Philadelphia.

"People asked me about the book and I said they could pre-order it on Amazon. The next morning, I thought to check it and before that reading we didn't even have an Amazon ranking, and when I checked it, it was at 125. I write novels — if they hover around the thousand mark when they're actually published, that's respectable."
The book even gained a few celeb fans. Pulp Fiction and Snakes on the Plane star Samuel L. Jackson — who is known for his eloquent use of bawdy language in films and is also a father — lends his voice (and attitude!) to the audiobook version. Check out some of the footage of the recording below.