Ka-chow! Cars 2 Toys Your Kids Will Love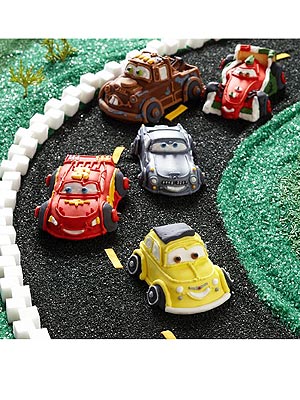 Courtesy Williams Sonoma
What comes before thunder? Lightning McQueen!
The super fast and lovable character (new dad Owen Wilson is back as the voice) from Cars has returned, along with old pals Mater and Sally, as well as a few new friends, in the much-anticipated sequel — Cars 2.
This time, the whole gang heads over to Europe for a whole new adventure.
If you're anything like us, you'll be hitting the theaters to see the film with the family this weekend.
But once it's over, your kids are sure to want more of the action.

Fortunately for you, there are loads of cool toys, games and more available so your little speedsters can still enjoy their favorite characters long after the credits have stopped rolling.
Ready to shop? Check out our top picks for Cars 2 toys, gear and much more!
Mini Cake Molds
Rev their engines up with something sweet! Williams-Sonoma's Cars 2 Cakelet Pans ($40, above) feature eight of your tot's favorite characters including Lighting McQueen, Mater, Francesco, Luigi, and more.
The mini treats look so much like the real thing, once you're done baking your kids won't know whether to eat them or to play with them.
Diecast Cars
The gang's all here! He'll love recreating his favorite scenes with these pint-size cars. Lightning McQueen ($7), Francesco Bernoulli ($4) and Finn McMissile ($4) are the perfect way to kick start hours of imaginative play.
Video Game
Let him take the wheel with Plug It In and Play's Cars 2 TV Games ($40). Not only does it hook up straight to the T.V., but it comes with 18 already installed racing games so no need to keep track of any cartridges.
Furniture
Kids Only's Puzzle Furniture ($50) looks like a stack of Lightning McQueen-approved tires, but little hands will have no problem sliding out the two chairs. The sturdy round top works great as an activity table or even for a quick snack fit for a champ.
Walkie Talkies
Finn? Come in, Finn! Whether they're budding spies or the next top secret agent, the Mater & Finn McMissile's Spy Walkie Talkies ($17) will let them show off their skills. Even better? They both come equipped with an optional spy feature making solo missions a must.
LEGOs
Even older kids can get in on the fun with the super cool line of Cars 2 LEGOs. Start off with the Ultimate Build Lightening McQueen set ($27) or Mack's Team Truck ($36), before moving on to the more advanced 517-piece recreation of Flo's V8 Cafe ($54).
— Anya Leon