Keep Your Tots Healthy & Hydrated this Summer with O.N.E. Kids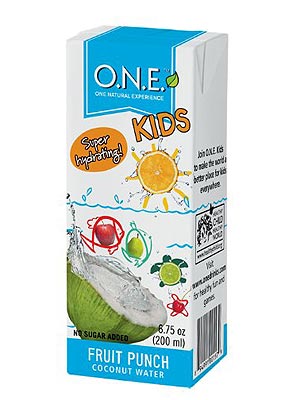 Courtesy O.N.E. Kids
With summer finally here, kids are back to playing in backyards and parks instead of inside.
And outdoor play means keeping your kids full of healthy fluids so they don't get dehydrated.
We're loving O.N.E. Kids' new Coconut Water with Fruit Juice.
Not only does it tastes absolutely delicious, but it replaces lost electrolytes without all the sugar that's in most sports drinks. It even has less sugar than most juices.
What is coconut water? It's the water that's extracted from inside a young coconut, which is nutrient-rich and packed with potassium.

And since some little ones aren't so keen on coconut water's plain flavor, O.N.E. has added natural fruit juices —apple, fruit punch, raspberry lemonade (our favorite!) and orange — to spice things up.
Celeb moms including Jennie Garth and Jenny McCarthy are already fans. And we can't blame them. What mom doesn't want an easy way to get their kids to consume healthy, vitamin-rich drinks?
Shop the full collection at amazon.com.
– Stephanie Phoenix