Ali Landry's Morning Sickness Solution? Grilled Cheese Sandwiches!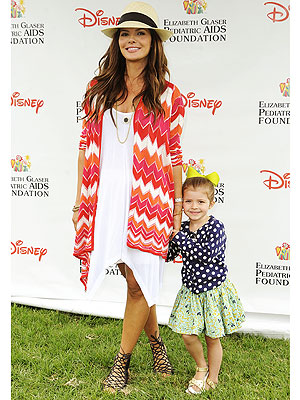 Landov
It was a bumpy start for Ali Landry, but now having sailed into her second trimester, the model's pregnancy has finally turned a corner.
"I feel great, I really do. The second trimester kicked in and it's like I have full energy, so everything is great," Landry told PEOPLE at the Elizabeth Glaser Pediatric AIDS Foundation A Time For Heroes Picnic on June 12.
Due with her second child this October — she and husband Alejandro Monteverde are already parents to daughter Estela Ines, 3½ — Landry quickly found her solution to surviving the daily morning sickness.
"I was definitely more nauseous — basically morning, noon, and night and eating horribly, like tons of carbs," she shares. "Grilled cheese sandwiches, that was my thing."

Now the couple are getting excited about their upcoming arrival and although they already know the sex of the baby, they're not sharing!
"We're not saying because I keep having dreams that it's the opposite of what the doctor has said," Landry explains.
"Sometimes they will confuse the umbilical cord for a piece of male anatomy, and it's not really that, so in my mind I'm like, 'I don't know, I don't know, I don't believe the doctors!' I'll believe it when I see it."
Left up to Landry, 37, the family would welcome a second daughter as she admits having a son would be venturing into uncharted territory.
"All I'll say is that I have a lot of amazing girl clothes and I have everything for a girl, so that would be really, really great and easy," she says. "And if it's a boy, I will be really nervous because I have no idea what to do with a boy because I am a girl and I have a girl!"
But while she may already have experience with her first pregnancy, Landry has had to face — and welcome! — some new changes her second time around.
"This time I have so much going on [body-wise]. I have to get it together because there are areas that are expanding that I have no idea what to do with, especially the back side," she reveals of her postpartum exercise plans.
"I was like, 'I finally see what Kim Kardashian feels like, having what's going on back there!' I don't know! Do I drape it? Do I cover it? Do I enhance it? I don't think I can embrace this. There is no embracing!"
As for soon-to-be big sister Estela, Landry laughs, she occasionally has her doubts when it comes to her daughter's readiness!
"I will think she is prepared … then yesterday we were at an event and there was a pretend baby that was really heavy. I saw her hold it and the head flop back and I was like, 'Oh, great! She just broke the baby's neck!'"
— Anya Leon with reporting by Reagan Alexander