Poppy Montgomery: Jackson Is 'Leaping Off of Tall Buildings'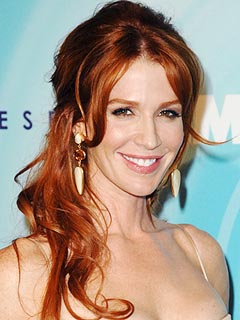 David Crotty/PatrickMcMullan.com/Sipa
Poppy Montgomery has a wild man in her life — her son Jackson, 3½, that is.
"I thought I was going to get a girl that wanted manicures, pedicures and would, like, brush my hair," the actress, 39, tells PEOPLE. "And I got a guy that is jumping off my head and leaping off of tall buildings."
She describes Jackson — her first and only with her boyfriend, actor Adam Kaufman — as a "wild man toddler" and a "rebel, total boy."
"He's got so much energy, she adds. "He's honestly like having six children."
With her new television series, Unforgettable, debuting this fall, Montgomery calls balancing career and family "not easy, but doable."

It's a balance she's used to, however: She starred in CBS hit Without A Trace as a working mom, after all.
"I worked the first year of [Jackson's] life," she says. "I was back at work two weeks after he was born breastfeeding on set. It was wild."
So is she ready for baby No. 2 (or No. 7, she might joke)? "I feel like [the new show] is my new baby," she says, "but down the line I'll think [about another]."
— Michelle Ward and Alison Schwartz