Tia Mowry 'Relieved' She's Expecting One Baby – Not Two!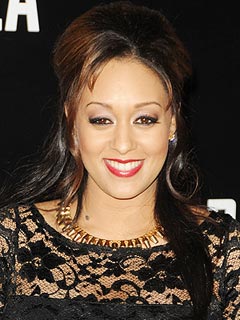 Tina Kaawaloa/INF
She was thrilled to discover she was expecting, but Tia Mowry's greatest news came when she found out she was carrying only one baby — not two!
"I am so relieved I am not having twins. I tell my mother almost every day I can't believe she was able to carry all that extra weight," The Game actress, 32, writes in a guest blog for Parenting.
"I am extremely hormonal now with one baby, so could you imagine double the hormones? That spells double trouble already."
However, a twin herself to Tamera, Mowry admits sharing that special relationship has allowed her sister to reap a few unique benefits.

"Sharing my pregnancy with my twin is the coolest thing in the world. Tamera actually gets to live through me vicariously," Mowry reveals.
"For example, she now knows what SHE will look like, when she decides to have a baby. I mean, let's be real, growing up I think all women find themselves standing in front of a mirror with a pillow under our shirts wondering what we would look like if we ever got knocked up, just for kicks and giggles. Well, not Tamera — she just has to look at me!"
Due with a boy on July 3, Tia's growing belly has been the object of affection for many — most noticeably Tamera.
"I think she secretly thinks my son is her son too! I mean, twins share everything, right?" Mowry jokes. "She is always kissing, rubbing, patting, and hugging my belly. She is addicted to the belly! Sometimes, it can be a little bit much — but hey — she gets a pass."
That said, while newlywed Tamera may be basking in baby bliss, Mowry reveals her sister is not ready to take the plunge into motherhood quite yet.
"I have been very honest with her about my pregnancy and its experiences, and now she tells me that I am a good source of birth control!" she says. "Marriage, and now a baby. So, the plus side to all of this, is that she gets to see what it is like — before she decides to dive in."
— Anya Leon