Constance Zimmer Calls the Terrible Twos a 'Myth'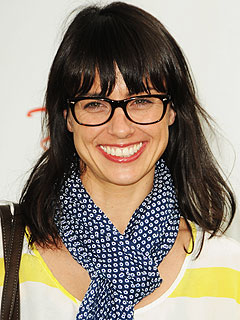 Tina Kaawaloa/INF
It was an early morning wake-up call for Constance Zimmer this past weekend — all courtesy of daughter Colette Zoe.
"A ballet recital at 9:30 this morning with hundreds of tiny kids running around in tutus is a lot to handle in the morning," the Entourage star, 40, tells PEOPLE at the Elizabeth Glaser Pediatric AIDS Foundation's A Time for Heroes picnic on Sunday.
"She has been up since 4:30 a.m. because she was so excited about dancing in the recital, which means I was up at 4:30, and I was like, 'And I have to do an event and be in front of cameras … Awesome.'"

Luckily, other than being an early bird, Zimmer admits she's been counting her blessings when it comes to dealing with any toddler tantrums.
"I have to say, we were very fortunate," she reveals. "We had no terrible twos. I think it's a myth. I do think we've passed it, but I don't know how or what the secret was."
However, while she may not have all the answers to bypassing the terrible two stage, Zimmer believes 3-year-old Colette's extensive list of vocabulary allowed both her and husband Russ Lamoureux to tackle any trouble quickly.
"This child, let me tell you, she is a genius! She's been talking since she was a year and a half! She's a talker, not a walker, so she's been slow physically, but she was very verbal from a very young age, which is what I think helped us not have the terrible twos," Zimmer explains.
"I think the best thing that you can do with your kids is to talk to them like they're human beings, not like they're children and they don't know what they're doing."
With such smooth sailing with their first child, will Zimmer and Lamoureux test their luck a second time?
"No, I think she's kind of perfect," the actress laughs. "With work and being a mom and having a career, I'd rather focus all of my attention — when I have it —  on her as opposed to splitting it."
— Anya Leon with reporting by Reagan Alexander