Naomi Watts: Liev 'Sets the Bar High' for Father's Day
Father's Day may be this weekend, but Naomi Watts is still unsure if her plans for fiancé Liev Schreiber, dad of her two boys Sasha, 3½, and Kai, 2½, will measure up!
"He's really set the bar high [with Mother's Day] the last few years," Watts, 42, tells PEOPLE while sitting with friends Isla Fisher and Hugh Jackman at the 2011 Veuve Clicquot Polo Classic in New York. "So I'm going to keep thinking."
And while Fisher, who is mom to daughters Olive and Elula with husband Sacha Baron Cohen, remained mum on her family life, she couldn't help but rave about Schreiber's thoughtful gesture.
"Naomi is such a great hands on mum and he had made this entire book of all them together," she said. "He bought this incredible iBook and it was just filled with pictures of the boys and their mum. I think it made me cry a little bit! He's an amazing dad. It's so beautiful."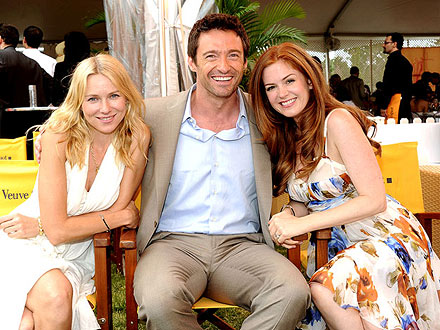 Dimitrios Kambouris/Getty
In the meantime, Watts is looking forward to summer in the Big Apple with her family.
"We're fortunate to have the summer off this year, but when you're traveling so much, it just makes you want to not go on anywhere and just stay where you live," she notes.
— Shruti Dhalwala