How to Create a Stylish and Organized Kid's Closet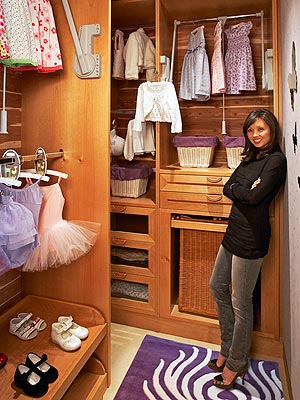 Courtesy Lisa Adams
Do a quick search on Lisa Adams and you'll find the closet designer and organizing guru has worked with everyone from mom-to-be Jewel to reality TV fashionista Whitney Port.
Through her firm — LA Closet Design — she helps whip her client's wardrobes into much-needed shape.
Lucky for you, she's sharing her top tips to creating a stylish, clutter-free closet that will grow with your child.
Check them out below:

Get the kiddies involved. If your child is old enough, ask them what they need and want. If they choose a certain theme or color, don't go overboard. For example, that cartoon character they love now, may not be so cool in the future. The goal is to create a closet that's both functional and stylish.
Baskets, baskets, baskets. Adding baskets with appropriate labels can help get your children used to organizing at an early age. If your tot hasn't started to read, use a picture instead of words to let them know what goes where. Another cool trick: Line one laundry basket with a dark liner and the other with a light liner to teach them to separate dirty clothing by color.
Use adjustable shelves and rods. Baby clothes only need about 24″ of vertical space, so you can include quite a few rods and shelves, one right on top of the other. In many cases, you can even triple hang to maximize the vertical space. 
Once your child reaches the age where they can start to dress themselves, put clothing they wear regularly on the lower rods so they are within their reach. Investing in a closet system that easily grows with your child, will save you money and time in the long run.
Tag it. I love to use cool tags to help guide kids to returning their clothing back to its proper place. Plus, you can use color, shapes and types of items to help them learn to organize. You can even change it up weekly to create fun lessons.
Keep everything eye level. Make sure their every-day clothing is easily accessible. Seasonal and less frequently used items can be stored higher.