David Basche Was Initially 'Weirded Out' By Breastfeeding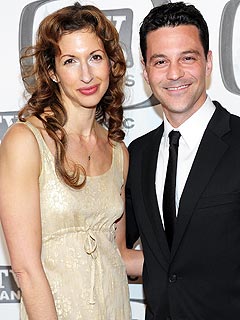 Michael Loccisano/Getty
When David Alan Basche imagined his then-pregnant wife Alysia Reiner one day nursing their child, the actor was initially turned off — completely.
"I hate to admit this, but before we had a baby I was kind of weirded out by breastfeeding," the actor, 42, tells Best for Babes.
"It looked strange and I was always like, 'Look away! Ignore it, ignore the boobs in the room, move along, nothing to see here!'"
However, all that changed the first time Basche witnessed the incredible bond between Reiner and their newborn Livia Charles, now 2½.
"The first moment I saw my wife breastfeed our daughter minutes after birth, I was hit with a thunderbolt of understanding and awe for the miracle of it all, and I still feel that way," he explains.

Despite a few road bumps along the way — including Livia's difficulty with latching — Basche, who recently appeared on Law & Order: Criminal Intent and White Collar, maintained his strong support and was never quick to throw in the towel.
"If it really hurt Alysia or didn't feel right, I'd say, 'Okey dokey, pop her off and let's start again, I'm staying awake here with you … you can do it sweetheart,'" he recalls.
As for his occasional bouts of envy? Those eventually passed too, Basche reveals.
"I gotta admit, I was jealous there for awhile. I mean, when would it be me playing with those boobs again?" he jokes. "Hang in there, partners, you'll be fumbling with a bra and feeling like a teenager in the back seat of a car soon enough."
And, although hoping to avoid "sounding preachy," Basche wants to offer advice — and encouragement — for future fathers who find themselves in the same mindset he once experienced.
"To a spouse or partner, I'd say learn about it, read about it, see a couple boobalicious videos (not those kind!) to really get a sense of the awesomeness," he says. "Then just support your girl and bask in the divine miracle of it all."
— Anya Leon