Spotted: Minnie Driver and Henry's Slide Show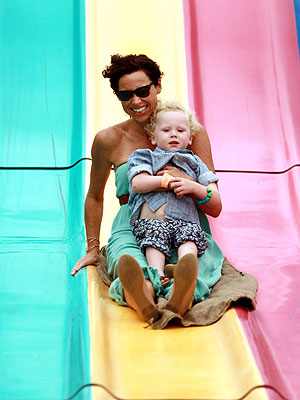 Chris Weeks/Getty
They took the plunge!
Minnie Driver holds on tight to Henry Story as the pair take their turn on the slides during the Elizabeth Glaser Pediatric AIDS Foundation's A Time for Heroes picnic on Sunday.
The adorable twosome also stopped by the 77kids by American Eagle Denim Decorating Booth.
How does the single mom balance her career and only child? By being British!
"I think being English is quite good for being a working mother. You get on with it, but it's a little challenging sometimes," the actress, 41, has said of raising her 2½-year-old son.
RELATED: Minnie Driver's Son Mistakes Nativity Scene for Old McDonald's Farm