Christina Hendricks: January Jones Will 'Rock' As a Mom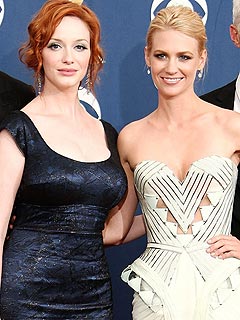 Jeff Vespa/Getty
When the Mad Men cast begins filming the show's fifth season, mom-to-be January Jones may be able to give her costar Christina Hendricks tips on how to play her pregnant character, Joan Holloway.
"I'm going to see her next week," Hendricks, 36, says of Jones, 33, who is due in the fall. "She sounds really happy and excited."
Hendricks, like costar Aaron Staton, has no doubt Jones will be a great mom.
"I know January is going to be very warm and tender," she told PEOPLE at a Johnnie Walker whiskey-tasting in New York City. "I just think she's gonna rock."
She also marvels at Mad Men's Jon Hamm, 40, and his recent slimy and comedic turn in Bridesmaids.
"He was fantastic," she says of the actor, best known as stiff and serious Don Draper. "He's just freaking talented, that guy."
The actress says the Emmy-winning drama's writers are already back at work, but she can't predict what's in store for the Sterling Cooper Draper Pryce crew. "I have hints of things, but those often change," she explains. "Matt [Weiner, the show's creator] always surprises us with his stories."
— Joey Bartolomeo