Constance Zimmer: Colette Loves Creating Her Own Characters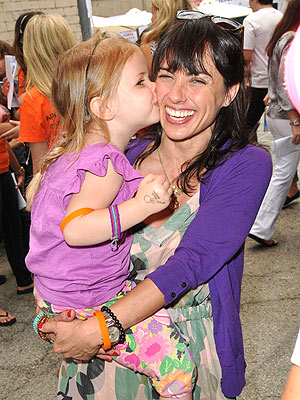 Tony DiMaio/Startraks
Like mother, like daughter for actress Constance Zimmer and daughter Colette Zoe.
According to the Entourage star, her little girl has always shown an interest in creating and acting out pretend play.
"Every day she creates a different character and they're all just based on something that she's hearing from her friends at the park, or if she hears us mention a name of somebody, she'll turn it into a character," Zimmer, 40, told reporters at the 5th annual Kidstock Music and Arts Festival sponsored by Hudson Jeans on Sunday.
"Specifically putting characters and matching her outfit to that make believe character is pretty fantastic."

Among Colette's favorite characters are those from The Wizard of Oz, however, only on the 3-year-old's own terms.
"We've been reading The Wizard of Oz over and over again," reveals Zimmer, prompting Colette to quip, "But we stop at the scary parts … [We stop at] the witch."
This summer, the whole family — including husband Russ Lamoureux — will pack their bags and head to New York City for a bit of rest and relaxation.
"We try to spend as much time in New York as possible," Zimmer says. "So we're going to try to get [there] for two weeks — a good chunk of time."
On the list of must-haves for the cross country plane ride? Snack-Traps.
"They're these little cups that have a lid on them that just only a little hand can get in and pull the food out, but then you don't lose all the food. I'm kind of obsessed with those," she admits.
— Anya Leon