Rebecca Romijn, Jerry O'Connell's Near Clothing Catastrophe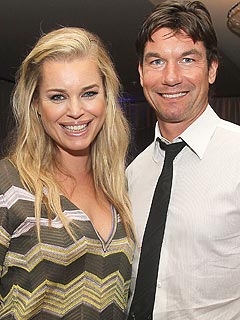 Chris Weeks/WireImage
It's a lesson well-learned by Rebecca Romijn and Jerry O'Connell's fraternal twin daughters Dolly Rebecca Rose and Charlie Tamara Tulip: no shirt, no school!
"This morning we had a little issue. One didn't want to wear a shirt to school and we tried to explain to her that shirts are pretty much mandatory," the actor, 37, told PEOPLE at the Thursday preview of PlayStation Vita in Los Angeles.
"No shirt, no service. She wanted to wear her pajamas to school and she wanted to do just the pajama pants, no shirt. So that was quite an incident," adds Romijn, 38.
Fortunately, once the 2½-year-old saw her sister heading off to school, she ran to dress herself — but wasn't so willing to forget the morning mishap.
"When we dropped her off this morning, she ran right to [her teacher] and [started to cry] and was pointing at me," O'Connell shares. "'He took my shirt,' and I was like, 'I'm sorry, I made her wear a shirt. I feel God awful about it.'"
But while both parents took a stand on the clothing issue, Romijn reveals she is often left to play the role of disciplinarian — solo!
"I would say I definitely make my wife bad cop. I feel awful about it," O'Connell jokes. "When they ask for something like ice-cream, I always say, 'I want to give it to you, but your mom won't let me.'"
Clarifies Romijn, "They won't eat any dinner so he goes, 'You know what? I'll take you out for ice-cream instead!' I'm like, 'No, no no!'"
With O'Connell extra "soft on them … because we have daughters," Romijn says the girls have quickly learned who to go to when in need. "Every single time they ask me for something and I say, 'No, I'm sorry,' they go, 'Daddy do it! Daddy do it!' It's true. They're right."
As Father's Day fast approaches, O'Connell is looking for one special present from his daughters that no amount of money can buy. "We take them to this dance class once a week and one of our daughters is very into it," he explains. "[She] likes to go there, puts on the tutu and the shoes, and … seems to do exactly as she is told."
Her sister, on the other hand, prefers to forego the dancing and skip to the socialization! "Another daughter of ours wants nothing to do with that dance class," he adds. "She refuses to go in and, as a Father's Day gift, I would like my other daughter to at least try the dance class."
However, according to Romijn, their polar opposite personalities are nothing new. "She's much more open to people. She wants to sit on all the laps of the girls in the dance studio … and is a little bit more afraid of new experiences and the other is much more open to new experiences and a little shy with people," she says.
— Anya Leon with reporting by Melody Chiu