Giada De Laurentiis: Jade's Love of Food Is 'All Consuming'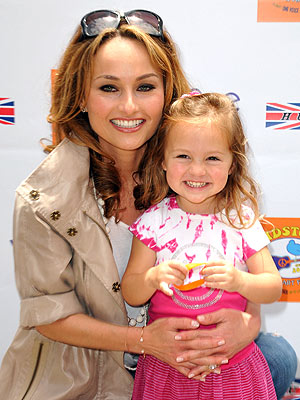 Tony DiMaio/Startraks
Her mom Giada De Laurentiis may be the celebrity chef, but that doesn't mean 3-year-old Jade Marie doesn't know her way around the kitchen.
"She's been cooking for quite some time now. I took her on the Today Show and it was hilarious," De Laurentiis, 40, told PEOPLE Sunday at the 5th annual Kidstock Music and Arts Festival.
"She had a whole conversation with Hoda [Kotb] about how much food to eat and how to eat spaghetti. She's very into food. We'll see how long this lasts, but for now it is all consuming."
However, as for any extracurricular activities, the mother and daughter's matching interests begin — and end! — in the kitchen.

"She's also really gotten into dancing. Which is very interesting because her mother is horrible at dancing," De Laurentiis laughs. "I have two left feet."
And when it comes to her newfound love of the water, Jade seems to be following in her father Todd Thompson's footsteps. "She has just started swimming and is like a fish in the water. She swims underwater," reveals the proud mama, adding Thompson is equally as thrilled with aquatic activities.
As a result, it didn't take much to plan an extra-special Father's Day — one that both daddy and daughter will enjoy!
"My husband is a big surfer and spends a lot of time on the beach. So for us, Father's Day is making a picnic and setting it up on the beach. He does his thing and we watch and support him," De Laurentiis shares.
So what will the ocean aficionado unwrap on his big day? A surfboard, says De Laurentiis.
"Because he's such a big surfer and things … I think it will be surfer inspired," she explains. "Maybe some kind of board with Jade's colors on it. I was thinking maybe she could decorate a board."
— Anya Leon