Angie Harmon: I'm a Mess with Mommy Guilt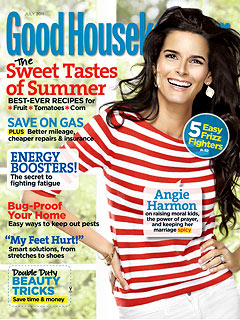 Courtesy Good Housekeeping
For Angie Harmon, working 90 hours a week filming TNT's Rizzoli & Isles is more than physically difficult — it's hard being away from her family, the mother-of-three says.
"I'm a mess," Harmon, 38, tells Good Housekeeping in its July issue. "I've lost 10 pounds since I got here. This is the hardest time in my life, for sure."
Balancing her two jobs — actress and mother to daughters Finley, 7½, Avery, 6 this month, and Emery, 2 — and two locations — L.A. and her family home in Charlotte, N.C. — has its effects. She calls it "mommy guilt."
"When I feel like I'm not doing what I am supposed to as a mother, I will torture myself," she says. "I don't know how to deal with it. I find some consolation in the fact that all mommies feel it."

She adds: "If there was a way to cure mommy guilt, I would bottle it and be a bazillionaire."
And when she misses a milestone, there's bound to be a bout of the mommy guilt. "The baby is a great talker, and she's improving every day," she recalls of one such moment. "So she got on the phone and said, 'Mommy, I mith you so muth.' She has a lisp now! I just lost it."
It may break her heart that she doesn't see her daughters, who are home with dad Jason Sehorn every day, but she says she's trying to heed the words of fellow actress and mother Kyra Sedgwick — which is easier said than done.
"Kyra told me to keep my heart where my feet are, so when I'm at work, my heart stays at work, and when I'm at home, my heart stays at home," she says. "With that idea in mind, I can sort of stay on track."
For photos and more from Angie's interview, go to http://www.goodhousekeeping.com/angie-harmon.
— Alison Schwartz