Jeremy Sisto: Charlie's Celebrating Her Birthday on a Boat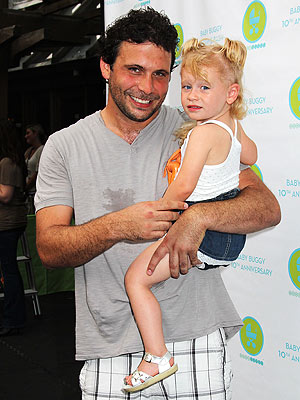 Steven Bergman/AFF-USA
Jeremy Sisto is ready to be king for the day.
With Father's Day coming up, the actor admits the one gift he's hoping for is something money can't buy.
"I want my wife to be really nice to me that day," Sisto, 36, joked with PEOPLE at the 10th Annual Baby Buggy Bedtime Bash on Wednesday in Central Park.
But before Sisto and Addie Lane can celebrate with daughter Charlie Ballerina, they must first tackle another major milestone: their baby girl's second birthday!
"She'll be 2 on Sunday!" he reveals. "We're going out on a big boat for a party. She loves boats."

Among Charlie's other loves? Barbies, according to her doting dad, who made light of the situation when she insisted on carrying a nude doll throughout the event.
"This is a friend of ours' childhood Barbie and Charlie wouldn't let us rip it out of her hands before we left," he says. "It's a little creepy to walk in with a naked Barbie, but hey, you know? What are you gonna do?"
Adopting a similar laid back attitude toward fatherhood, Sisto admits there is "nothing hard" about daddy duty — including the family's nighttime routine.
"It's good, it depends on who's doing it. It's a little easier for me than Mama. It takes her longer to put her down," Sisto shares of getting Charlie to sleep. "You talk to her and sing and read a book, all the basics. We've been reading this book lately called What Did Mommy Do Before You?, which is all the things that Mom did before she was a mom. And now that [Charlie's] around, all those things are for her. It's a cute story."
— Anya Leon with reporting by K.C. Baker