Family Photo: The Alves-McConaugheys Touch Down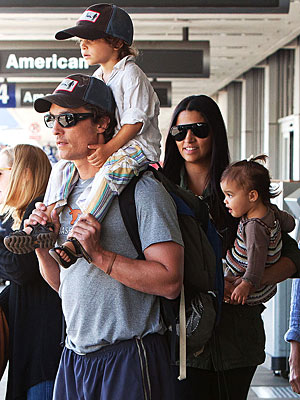 Bauer Griffin
The gang's all here!
Matthew McConaughey gives son Levi, 2½, a lift, while mom Camila Alves holds tight to daughter Vida, 17 months, as the family strolls through LAX Wednesday.
Father and son even wore matching "j.k. livin'" hats as they made their way to the car.
"[Levi] dotes on her, but [Vida is] getting big enough where it's a competition now and he's only got a few more months of being bigger than her," McConaughey, 41, said recently.
"She's gonna overtake him I think and really start whooping his butt soon!"