Review: Bugaboo Donkey Stroller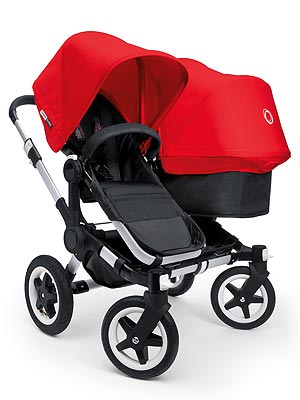 Courtesy Bugaboo
Finally, the luxe double stroller we've all been waiting for has arrived.
The Bugaboo Donkey — that name is going take a little while to get use to — is amazing and then some.
Check out our review below for all this cool set of wheels has to offer.
Things We Like:
Really, what's not to like? It's the smooth ride you already love, now in a double version.
But the greatest feature is that it works as either a single stroller (in the mono configuration) or as a double stroller (in the duo configuration).

So if you're a first-time mom you can buy the single version — which is the same width as the Bugaboo Cameleon — and then just add on the Duo Extension Kit when your next baby arrives.
For extra storage space, there's a great side luggage basket that clicks easily on and off with just a push of a button, which is perfect for city moms who grocery shop or run errands while out and about.
In typical "they think of everything" Bugaboo fashion, this stroller is a breeze to use with only one hand free. Even removing the stroller seat or bassinet is a cinch.
But best of all, it can hold two children of varied ages in any combination (stroller seat & bassinet, stroller seat & car seat, etc.) There's even a twin configuration that allows for two of anything (car seats, stroller seats, bassinets) to be used on the base at once. And the seats can face each other, which we absolutely love.
The fold is easy and the switch from mono to duo is a three-click maneuver that's simple to handle, though does require both hands free. And the air-filled tires make for great steering and a very smooth ride.
Things We Didn't Like:
Aside from the silly name, there's really nothing to dislike about this incredible stroller. The model we tested was a little trickier to transform from mono to duo than it should have been, but we think that was just a result of it being a tester model. That said, it is a two-handed job and requires a fair bit of strength to pull it open.
The other down side to this stroller: the price. It's hardly affordable, to say the least. But we do think that the functionality and the multi-use advantage help justify the cost; particularly for parents who plan on having more than one kid back to back.
Moms & Babies Rating:
We love it! Anyone looking for a luxe double stroller should consider the Donkey. From parents expecting their first baby to parents of twins, two children of different ages or more (there will be an adaptor for the Bugaboo ride-on board soon), this stroller really does everything. Now, if only they could do something about the name!
— Stephanie Phoenix