Review: Simplisse Double Electric Companion Breast Pump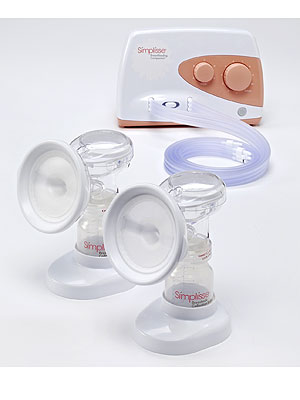 Courtesy Simplisse
Selecting an electric breast pump can be like buying a new car.
How fast is it? Which is most comfortable? What will I get for my money?
Simplisse's new Double Electric Breastfeeding Companion ($300) stands out from the rest of the pump pack.
With special features designed to mimic baby's tongue, it's definitely one of the most comfortable breast pumps we've tried — but the machine's unique comfort isn't completely functional for busy moms.
Check out our review below.

Things We Like:
The pump's Super-Soft BabyFace Flexible Breast Cups conform to mom's body and are designed to naturally move with you as you express.
Two large, velvety inner and outer cups work together quickly to mimic the motion that a baby makes with his tongue, and Gentle Compression Technology means there's virtually no tugging or pinching during the process. It has a completely different feel than other pumps we've tried. It may be the closest thing you can get to the real thing.
The purse-like bag perfectly conceals the pump and muffles the loud sound that it makes, so you can discreetly take it anywhere you need to go – and it leaves plenty of room for the pump's important parts.
Things We Don't Like:
Working moms who lug their milking machinery to the office everyday will build muscle while toting the Breastfeeding Companion. When it's in the specially designed bag, it's really heavy – at 8.3 lbs., it's as heavy as carrying a newborn in your arms!
Moms & Babies Rating:
Simply put, the Simplisse Companion's innovative design makes it comfortable but the heavy size makes it somewhat impractical.
— Amy Jamieson