Elisabeth Röhm's Blog: Favorite Family Flicks
Elisabeth Röhm, best known for her role as Serena Southerlyn on Law & Order, has a busy year ahead of her.
The actress, 38, can be seen on the big screen in the upcoming films Chlorine, Transit, Abduction and Officer Down, and can be found online on Facebook and @ElisabethRohm on Twitter.
In her latest blog, Röhm can't wait for summer's wonderful weather and plans an outdoor theatre for Easton August, 3, her daughter with fiancé Ron Anthony.
What are your favorite family-friendly movies? Please share your thoughts in the comments!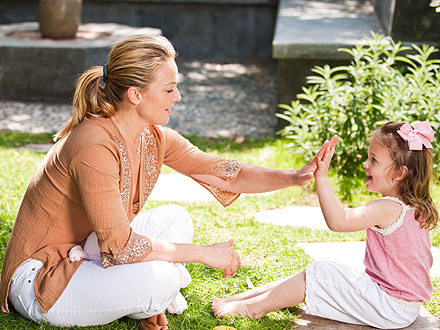 Robert Evans

Although I am in New York City working right now and the weather is nothing like what I am used to in sunny California, a girl can still dream. Daydream, that is.
Moms, what do you love about the summer? I can't wait to do the fun activities that one can really only do when the weather's nice.
In addition to my bicycle rides, park visits, and day trips to the beach with Easton, I'm going make an outdoor theatre in my back yard with bean bags and create a drive-in theatre and camp out! I will get some yummy snacks, comfortable clothes, candles and of course some fantastic DVDs to start the party…
Here are some of my favorite family flicks — what are yours?
Monsters, Inc.
All Dogs Go to Heaven
Flushed Away
Pony
Tangled
Princess and the Frog
The Little Mermaid
The Muppets Take Manhattan
Bambi
The Wizard of Oz
Harriet the Spy
All of Them
Toy Story
The Aristocats
Cinderella
The Goonies
The NeverEnding Story
Pippi Longstocking
Cars
E.T.
The Last Mimzy
Matilda
Chitty Chitty Bang Bang
The Lion King
The Sound of Music
Happy Feet
The Jungle Book
Stand by Me
Drop Dead Fred
Willy Wonka & the Chocolate FactoryAnnie
Dumbo
Madagascar
Over the Hedge
101 Dalmations
Lady and the Tramp
— Elisabeth Röhm
Robert Evans has photographed parties for Christina Aguilera and Jim Carrey, and is also known for photographing some of the biggest celebrity weddings in the last 10 years, including Tom Cruise and Katie Holmes, Brad Pitt and Jennifer Aniston and most recently, Shania Twain.