Maya Rudolph: 'I Think I'm 25 Months Pregnant'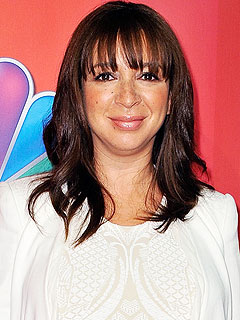 D. Dipasupil/FilmMagicy
Time has suddenly come to a screeching standstill for expectant actress Maya Rudolph.
Due with her third child — a delivery surprise — in July, the self-proclaimed "baby machine" is desperately searching for the finish line.
"I think I'm 25 months pregnant," the Bridesmaids star, 38, joked during a recent appearance on Chelsea Lately.
"[I'm due in] two more months … in dog years, so that's 25. Honestly, because it's my third, I feel like I've been pregnant for like six years, seriously."
However, time slipped by 18 months ago when daughter Lucille arrived — and her unexpectedly speedy delivery led to a birthing plan neither Rudolph nor Paul Thomas Anderson were prepared for!

"[A homebirth] was not my plan, but that's what happened … because the baby came out really fast," Rudolph recalls. "Luckily, she just kind of glided into her father's arms."
And although Lucille's delivery caught Rudolph off-guard, she admits there was something equally as powerful about the situation.
"It was scary, but it was kind of awesome," she says. "Hospitals make me nervous because I feel like hospital equals death, like it smells like dead people and weird fluids that pickle people."
But it was not until weeks later that the whole homebirth experience truly came full circle — much to Rudolph's surprise.
"You have to put the placenta somewhere and I didn't know it at the time, but someone put it in my freezer," she laughs. "Then a couple of weeks later I opened the freezer and was like, 'What is that weird meat?' Apparently a lot of cultures eat it. I did not do that, so don't worry, I'm not a weirdo."
— Anya Leon