So Cool (and Handy)! Yoomi's Self-Warming Bottle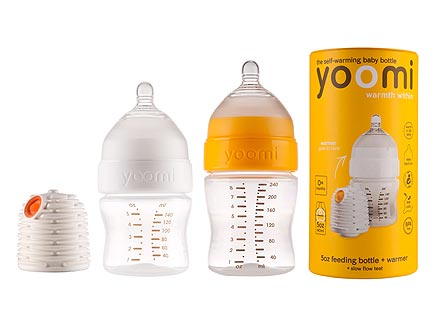 Courtesy of Yoomi
Every once in awhile, a baby product hits the market that completely revolutionizes everything. Well, we think Yoomi's self-warming baby bottle system ($33 – $35) definitely fits the bill. Already a hit in the U.K., it safely (and conveniently!) heats up breast milk or formula in just 60 seconds.
Designed by husband and wife team Jim and Farah Shaikh, it features breakthrough technology that warms up milk directly in the bottle to the ideal temperature (86 to 90°F).

Now, you don't have to worry about overheating and losing valuable nutrients or exposing your tot's bottles to microwave radiation. With the touch of a button, you can quickly get warm milk while at home, out-and-about or during extended travel.
"Necessity was certainly the mother-and father-of invention for yoomi, and we are proud to be able to help families everywhere solve the feeding challenges we personally faced as new parents," says Jim, a former engineer at BMW.
Even cooler? Yoomi's bottles are BPA-free and ergonomically designed so they're easy to hold. The wide, soft silicone nipple is shaped to mimic a woman's breast and it features well-placed vents that prevent air from bubbling to help reduce colic.
For more information on this ingenious new bottle, go to yoomi.com.