Cool Toys From Pirates of the Caribbean: On Stranger Tides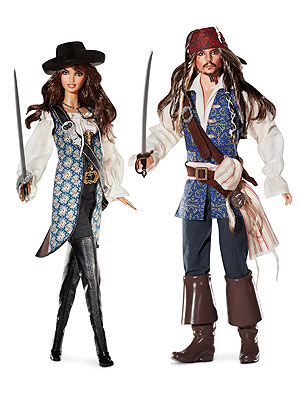 Courtesy Barbie
Ahoy, matey!
In honor of today's release of Pirates of the Caribbean: On Stranger Tides, starring new mom Penélope Cruz and dad-of-two Johnny Depp, we're taking a look at the best toys inspired by the movie.
First up: Swashbuckling dolls from Barbie that your little princess will love.
There's the pretty Angelica Doll ($35) and handsome Captain Jack Sparrow Doll ($35) that look so much like the celeb parents you might end up putting them on display instead.
For your tyke, try LEGO's Queen Anne's Revenge ($120).

Not only does it come with seven mini figurines (including Jack Sparrow, Angelica and Blackbeard), but the captain's quarters are detachable and the cannons and helm move for more imaginative fun.
Want to see more of the company's cool playsets from the film? There are loads at lego.com. And if you're anything like us, you (and your family!) will be checking out the action-packed movie opening weekend.