Jennie Finch's Blog: The End Is In Sight!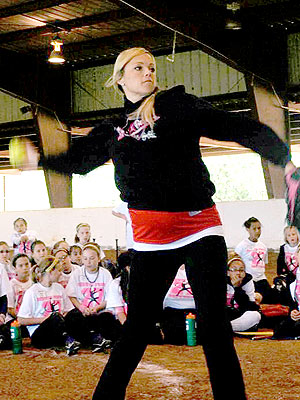 Pitching at 34 weeks! – Courtesy Jennie Finch
We're getting to the end of celebrity blogger Jennie Finch's pregnancy! The recently retired softball player is expecting her second child in late June and is sharing her experience with us monthly.
The Olympian, 30 — who won gold in Athens and silver in Beijing — and her husband, pitcher Casey Daigle, are already parents to son Ace Shane, 5.
You can find her online on Facebook and @JFinch27 on Twitter.
Currently 34 weeks along, Finch writes about celebrating Ace's 5th birthday, the final weeks of her pregnancy, her last camp visit with her softball girls and preparing for delivery!

My due date is fast approaching — it seems like this blog is weekly and not monthly the way time is flying by! I keep coming across things that I should have and be prepared, for such as a birthing plan. Well, I'm not that organized and really am used to living on the fly. However, I do need to get myself and all the things we'll need together because Baby Daigle will be here before we know it.
It's a little strange because we are living on the road this time. With Ace we were so blessed to be in our home in Arizona. Casey was with the Diamondbacks last time around, and I was able to be in our house and have everything right there.
This time it's a little different – I am on my third doctor in three different states and I still have not seen the doctor whom I plan to have deliver Baby Daigle. My first appointment is in a few days, and I'm looking forward to it! Baby Daigle is the size of a pineapple these days… so they say, even though he's starting to feel like a watermelon.
I have nothing, literally nothing, but a Moses basket, a beautiful gift basket of goodies from Tommee Tippee and this cool thing to stick in the sink for bathtime that Puj sent me. I am trying to figure out what exactly I will need for the first few months until we get back to our home in Louisiana after the season. I've been making my list and it ranges from crib and stroller right down to wipes (and lots of 'em!).
As you can tell, a lot of to-dos for this mommy-to-be! After traveling with Ace, I learned the extra luxury items didn't make the cut when packing. The baby wipe warmer, Diaper Genie, and all the other fun things had to be left behind. Baby Daigle will have to be tough and make do with a little — at least until we get to our home with all the fun stuff to spoil him there!
Times have changed significantly since my last delivery, so all my fellow current mommies out there, I would love to get the scoop on the new must-have items in 2011. I would love and appreciate any and all advice and updates. Time truly does fly by.
It's hard to imagine it's been five years since I experienced the blessing of pregnancy and the birth of Ace. We just celebrated his birthday. If you want to read a short paragraph on Ace turning 5 and how it has touched our lives you can check out my last blog via my Web site. I cannot believe Ace is a whole hand 5!
We are trying to prepare Ace as best we can for our new addition. I think with him being 5, he's at a great age and he will be such a big helper. We are trying to celebrate how big he is and how cool it is to be a big kid. Explaining how he can and gets to do so many awesome things only big kids get to. Thank goodness we are having a boy because for the longest time, he was convinced that he was only going to help out if he was having a baby brother! Glad we are all good on that! 😉
Seeing him interact with other babies we are close to, so far he has been nothing but super sweet, soft, very inquisitive and a great help. I think and am praying the transition will be smooth. I know Casey will be out and about with Ace in the Louisiana countryside, especially this off season … I think that will be fun for the two of them sharing the wilderness together!
It's been fun seeing Ace move into the somewhat independent stage — as much as it hurts at times for this mama, we are encouraging him every step of the way, especially knowing another is on the way.
Casey has already planned to move in with Ace in his room when the baby comes, and Ace thought this was pretty cool! So Baby Daigle and I will have the master all to ourselves … until we crash their party! Casey was so helpful with Ace and I know he'll be a big help this time. Casey is more of the night owl and I am a morning person, so it works out for the most part!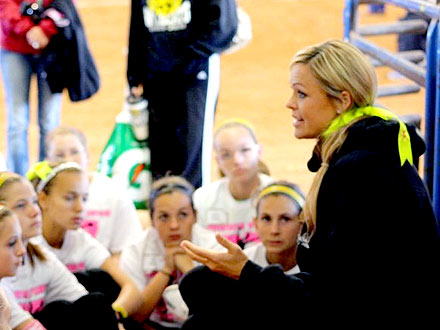 Chatting with my campers – Courtesy Jennie Finch
Getting ready for delivery — not sure you can ultimately be ready or prepare for this… Ace was 8 lbs., 11 oz! Casey was a 10 lb. baby, and I was 6 lbs., 8 oz, so Casey gets the credit for the big babies! Lucky me! 😉
My last pregnancy and birth went smoother than I could have imagined. I was induced and received an epidural — Casey and I actually slept through the night and the nurse came in and had to wake us because I was at 10 cm and ready to go. Less than two hours from that moment Ace was born! Not sure we could have it any better … so we'll see with this one.
It may be my way of dealing with adversity or uncertainty or my "un-organization" skills, but I try not to plan too much. We will take it as it comes and go from there. It just seems to work for Casey, Ace and me for the most part. Living on the go, taking it one day at a time. I have to give great credit to our families and our entire support system for riding the ride with us and the way we live. We are beyond blessed with both sides of our families and how supportive and helpful they are.
My last check-up went well. It's so amazing to see your baby within and to identify their precious body parts on the ultrasound. I love hearing his little heart pound away as it is working so hard. We found out he was breech at the time so we are hoping and praying he changes positions in the next few weeks, if not already.
I know he is moving non-stop. It went from morning and night to pretty much randomly throughout the day now. I love lying down and watching my belly shift away. Ace referred to it as "jello" — not sure if I like that reference but yes, it is jiggling! I have been trying to keep up with walking at least five days a week — anywhere from two to six miles.
This last weekend we had a Jennie Finch Softball Camp in Ardmore, OK. This was my last scheduled trip I have planned before delivery. Thank goodness because plane rides these days are not too comfortable for this 6 ft, 1 in. tall mama! I was happy to have survived the long weekend on my feet and the pitching and hitting demos too. Surprisingly my pitches had good spin, even at 34 weeks! I was loving it out there on the mound! Being surrounded my young, excited athletes fires you up and definitely helped make this JFSCamp weekend a fun one!
Now it's baby mode for me — soaking up time with Ace, shopping, preparing, and resting up mixed with cheering Casey on in his season and the Arizona Wildcats as they head into NCAA post season. Looking forward to having lots of softball to watch on TV during my down time.
It's a bit of a change of mindset. Usually around this time, I am preparing to enter my peak stage of training for the softball season… this time it's delivery mode. I'm looking forward to not having to be back on the field in five weeks like I did after giving birth to Ace, as much as I will be wanting to.
I think it will be bittersweet, but I'm looking forward to being able to enjoy this little guy without the stress of training and coming back in a hurry. It's just that I know I will miss being out on the field with my teammates too. I know my hands will be full and days filled being a blessed mother of two!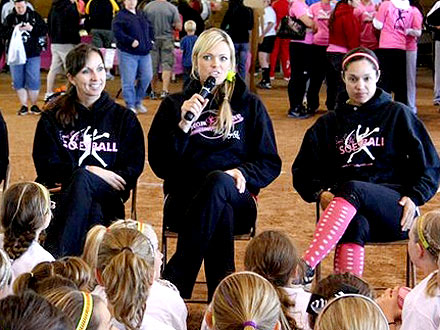 Talking to the girls – Courtesy Jennie Finch
— Jennie Finch