Mommy Must-Have: Gwyneth Paltrow's Personalized Necklace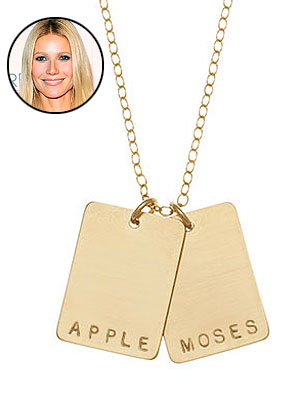 Jon Kopaloff/FilmMagic, Courtesy Anna Bee
A baby registry is the go-to place for something a soon-to-be or new mom needs — but sometimes you want to give a gift that's a little more sentimental than a diaper pail.
For a present she'll cherish, we suggest checking out Anna Bee Jewelry.
Delicately designed, each one-of-a-kind piece is handmade including the charms, which can be personalized with baby's name and birth date.
Recently, the British jewelry maker designed a pair of "lotus" gold rectangle pendants ($120, left) for mom-of-two Gwyneth Paltrow.

But her jewelry isn't just for commemorating moms. Former Bachelorette Ali Fedotowsky owns a necklace emblazoned with her and fiancé Roberto Martinez's initials.
Ready to shop? You can choose from a variety of charms and nametags, which are available in different shapes and sizes and all hand-stamped by Anna Bee, herself.
Added bonus: Until May 27, you'll receive 20 percent off when you enter code: PEOPLEBEE at checkout.
— Amy Jamieson