Ivanka Trump Reveals She's Having a Girl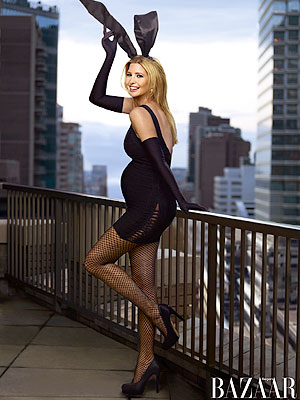 Martin Schoeller/Harper's Bazaar
Ivanka Trump has revealed some new tidbits about her pregnancy: She's officially due July 14, and she's having a girl!
The savvy businesswoman and Celebrity Apprentice judge, 29, also talks about her expectations for motherhood and her hopes for her first child with husband Jared Kushner, 30, in the June issue of Harper's Bazaar.
The good news: Her cravings are mild, and include only double-toasted salt bagels with cream cheese.
The not-so-good news: Long before the birth, she's already in mommy overdrive.

"I do have a bit of first-time-mom syndrome," she admits, chuckling over the piles of books on pregnancy, mothering, and early-childhood development she's assigned herself.
"I'm already on what I should be doing when she is three and when I should introduce new languages," including French and Mandarin Chinese.
With the famously luxurious Trump lifestyle ready to greet the baby, she says she and Kushner will strive to make sure their daughter earns her privileges.
"We have our work cut out for us to ensure that our daughter is grounded and not spoiled," she says.
And although she hasn't yet embarked on motherhood, she's already been subjected to one big surprise: How often a newborn baby needs to eat.
"I was in total shock," Trump says. "I work so close [to home] that I figured I'd return to work and the baby nurse would bring the baby to me, and I'd run home periodically, and I'd make it work. But every two hours? That's a whole other level," she says. "I'll have to make a nursery at the office."
Even so, she's not afraid of a little hard work – and, in fact, she's eager for more.
"I'd love to have three or four kids," she says. "But my mom always says, 'Speak to me after you have your first.'"
For more from Ivanka, go to harpersbazaar.com/ivanka
— Sara Hammel