Style 101: How to Buy a Maternity Bathing Suit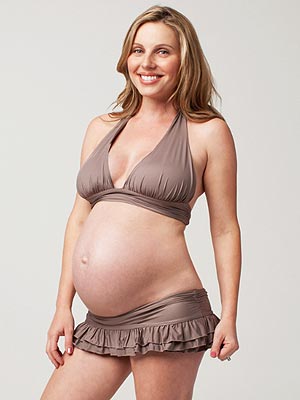 Courtesy Ingrid & Isabel
Summer is almost here!
Whether you're hitting the beach or the pool, you'll need a great swimsuit to get you through the season.
However, finding a flattering bathing suit is hard enough when you're not sporting a bump.
But as celeb moms-to-be Jessica Alba, Kate Hudson and Selma Blair prove, it's possible to find a belly-friendly style that works for your growing curves.
For tips on how to score the perfect bathing suit, we tapped mom Ingrid Carney, founder of chic maternity swimsuit line Ingrid & Isabel.
Check them out below:

Avoid pinching! It's not flattering and surely not comfortable. Find a suit with quality stretch fabrics (nylon, spandex or Lycra) that can adapt to your changing body. The best is a four-way stretch fabric that stretches from side to side, as well as up and down. At Ingrid & Isabel, we use 90% nylon 10% spandex and that works well for us. If it's the right fabric, paired with great construction, the suit will expand with your shape in the right places without pinching.
Less is more. It's counter-intuitive, but when it comes to a basic bottom, perhaps a side-tie or hipster, the more fabric you have on your bottom, the larger you may look. So, don't let your pregnancy relegate you to "brief-cut" swim bottoms. As long as they don't pinch, a sleek bottom should work very well.
And for those of you who want more coverage, consider lower rise skirted or hipster styles, which are stylish and on trend before resigning yourself to a full brief. Your silhouette will look balanced. Trust me on this one.
Separates or a one-piece? I prefer separates. First of all, it's nice to break up the pregnant silhouette by showing a full belly or just a peek of skin above your bottom half. Second, pairing a bottom with two tops (bikini or tankini) will give you mix and match options throughout your pregnancy. Lastly, it makes things much easier for those frequent ladies room visits.
If you're a one-piece gal, consider a versatile tankini you can pull down to appear like a one-piece while giving you the convenience of separates. And if you find yourself in a swimsuit postpartum, that tankini will likely be your choice.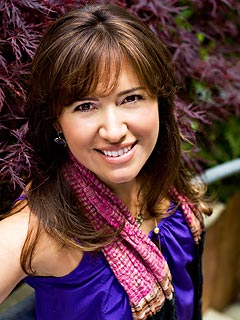 Courtesy Ingrid & Isabel
Look for tops that fit today AND tomorrow. Your bustline can grow a cup size or more during pregnancy and beyond, so your suit must be designed to adapt with you. If you were blessed with a model-esque chest, then perhaps the simple triangle top will work throughout your entire pregnancy.
Or maybe you were blessed in the other direction, then those glamour halters will work best for you. Either way, consider where you were before pregnancy and look for these construction must-haves: 1) wide, adjustable straps that wrap at your back and/or your neck to support your breasts and flatter a softer-than-usual back, 2) stretchy fabric that will expand with your increased breast size, and 3) removable cups that help smooth out your growing bosom and offer more coverage.
Don't forget the add-ons. Your go-to summer accessories can draw attention to those areas you want to spotlight (and steer eyes away from those you don't). So, layer on an embellished tunic or cover-up, chunky necklace, cool flip flops, water-safe tote and sunglasses for a complete look. Add an all-natural sunscreen and a good book and you're all set.