Honeydumplings: Putting Babies in the Lap of Eco-Luxury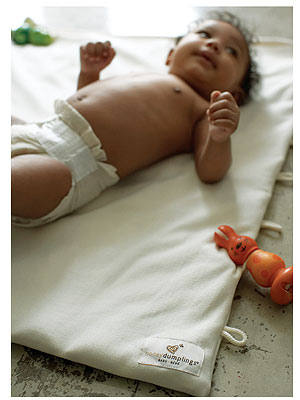 Courtesy Honey Dumplings
There's something about a swaddled baby that makes a mama happy.
Could it be that the baby is calm, quiet and sleepy? Sure, that all helps. But what we think mamas love best is that baby looks absolutely adorable.
And the new Organic Cotton Swaddle Blankets ($30) by Honeydumplings will have your baby looking cuter than ever — in the greenest possible way.
Made in Canada, the company's baby products are designed with 100 percent organic materials, which means your baby will be wrapped in nothing but the best.
We also love the Buckwheat Baby Mat ($88, above), a buckwheat hull-filled mat with a super-soft bamboo cover.

Both Nicole Richie and Tobey Maguire use them with their little ones. And for good reason. They're the perfect place to lay baby when arms just aren't available.
The mat shifts and shapes to cradle baby's every contour. And the buckwheat hulls make the most soothing rustling sound when baby moves. And we love the little braided bamboo loops for baby's toys.
Love the line? Check the full collection at honeydumplings.com.
— Stephanie Phoenix