Nick Cannon: Twins Born to Mariah Carey's Tunes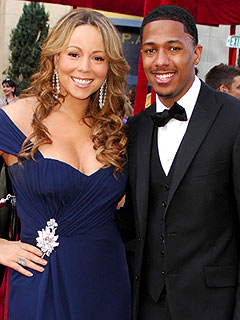 Rex USA
Talk about a grand entrance!
Mariah Carey has taken the stage to standing ovations on more than one occasion — and the new mom wanted nothing less when it came to welcoming twins Moroccan Scott and Monroe into the world.
"My wife wanted to make sure that when the babies came out, that they came out not only to a Mariah Carey song, but a live performance from Mariah Carey — her Madison Square Garden performance of 'Fantasy' — so they came out to a round of applause," husband Nick Cannon tells Gayle King of Carey's c-section delivery on April 30.

And although it was certainly Carey's time to shine, Cannon admits he has no problem taking a backseat to his wife's celebrity status.
"At times [being called Mr. Mariah Carey] used to frustrate me," he shares. "When I step back and look at my life as a whole, I could be called a lot of worse things than Mr. Mariah Carey."
As for the babies' unusual monikers, Cannon, 30, laughs, "Of course we got to keep our celebrity weirdness up!"
"My kids' names are Roc and Roe," he tells E!. "Right there, it can't get any better than that."
More seriously, he adds, "There's a lot of meaning. We put a lot of thought into those names. I think we did a good job … They ain't gonna be mad at us when they grow up."
— Anya Leon