Elisabeth Röhm's Blog: Nobody's Perfect, Right?
Elisabeth Röhm, best known for her role as Serena Southerlyn on Law & Order, has a busy 2011 ahead of her.
The actress, 38, can be seen on the big screen in the upcoming films Chlorine, Transit and Abduction, as spokesmom for Juno Baby, and can be found online on Facebook and @ElisabethRohm on Twitter.
In her latest blog, Röhm is back to work in the Big Apple on a film, and is struggling with being far away from Easton August, 3, her daughter with fiancé Ron Anthony. Do you struggle with mom guilt? How did you decide to go back to work or not? Is it an issue for you as well? Share your stories in the comments — Elisabeth wants to read them!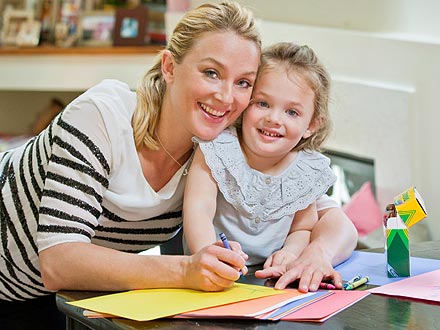 Robert Evans

I never had any idea how emotional being a mother would be (thanks friends for really laying it out there — geez!). If I had known that it would come with a whole suitcase full of emotions that I had not really entertained before, I still wouldn't have hesitated to be a mom, but boy, why didn't anybody prepare me?!
I would have read at least 10 more books on the subject of parenting just to buffer the ache in my heart that comes after doing the best you can and still not getting it right. The guilt … why did no one tell me of the guilt you feel as a mom?
It's the whole working mom conundrum. To work or not to work? I think that is the heart of the issue for me today. I feel like a bad mom today and I'm not liking myself very much right now. And it hurts to be tough on yourself when you are actually trying to do what's best for your child. At least you're doing what you have to do for them, whether they like it or not.
So, I'll be honest — Easton is mad at me. I'm working on a film in N.Y.C. and I've been gone for five days straight and counting. It will be seven days in total that I'll have been away from her once I return home on Friday. Then I'll be home for a week and gone again for a solid seven days after that.
As much as I love my job, I feel so guilty for not being home with Easton. And you know what? I also feel guilty about the fact that I'm enjoying some of this time to myself to work and be creative. But because I feel guilty for not being a stay at home mom, I can't really completely enjoy this time away because ultimately I'm not being present here or there. I'm torn in two different directions.
But it gets worse. At first she was mad at me — insert pouty face here. Now she is not only mad, but she's also slightly indifferent about my being gone. I feel sick about it, actually.
The trip started with Easton and I on Skype, hugging and kissing our separate computers. She'd say, "I'm angry you are so far." And I'd say, "I miss you so much. I'm so sad when I'm not with you." And then she'd say, "I miss you, Mama. Come home." And then I'd say, "I'll be home real soon, baby. I love you sooooooooooooo much!" And then we'd kiss and hug our computers some before she'd get bored with talking to Mom via a grainy screen.
Now on day five she seems to be having a good time with her dad, friends and the occasional assist from the nanny. And of course, it makes me so happy to know that she feels secure without me there (not really actually — I'm a little jealous too). But now I'm faced with the guilt and shame of having to bring home some bacon to the point where she's comfortable with my absence.
You see, she's usually traveled with me but now that she is getting older and has a routine — school, her after-school activities, friends etc. — she's got a great schedule. Since she's happy I thought to leave her at home instead of dragging her to N.Y.C., where she'd just be waiting on me.
Makes sense, right? You gotta pay the bills somehow and you gotta make sure the kids' lives are stable. So, what choice do you have? And by the way, some of us actually really love working — or at least used to before our happiness became colored with our guilt for being happy without the presence of our little ones from time to time. Ugh, how complicated!
I just want to go home and lock the door and never leave her again. Of course, until I have to for financial reasons or because I'm really excited about a project. I'm feeling guilty, moms, and want to run home and beg forgiveness for doing the very thing that makes her routine possible and for having work that excites me.
Why did no one prepare me for the plight of the working mom? I would have at least gotten a therapist or created a mom support group where we can all tell each other that we understand how the other one feels and that the kids will be all right and further, that we are setting a good example. Not only just our work ethic, but that we have interests outside of the home, a job or a passion or both. Most importantly, they will forgive us for our absence.
But see that's the thing … when you are a mom, you twist it all around in your head and feel bad that you can't be everywhere at the same time and be all things to all people. I get that this is a normal feeling but it hurts to feel like you are not being there for your kids and worse — that they are getting used to the feeling of your absence.
I can't seem to forgive myself today for actually having a job. Boy oh boy! Where do moms meet to talk about this? Playgrounds, birthday parties, school hallways? Or right here, in the blogosphere?
I know on the flip side that there are all kinds of emotions for the stay at home mom too. Many of my friends who are there with their kids find that they feel confused about that very issue. We just can't win, can we?
If we are home all the time the kids feel profoundly secure and unconditionally loved, right? That's the point I would think. But then they don't see their mom out there fighting, winning, losing and what the work force is all about. They miss out on seeing their mom have a purpose besides them.
Which — as good as it feels to be loved by your mother so much that she will give up her own dreams or career for your needs — it also holds a lot of pressure. At least, I remember feeling like I was everything to my mom and that it sort of stressed me out that she didn't have distractions or other responsibilities outside of the home. She was way up in my bizness, as they say! But our bond was undeniable because she was home with me and saw me through everything. I never felt as if I came in second place to her other life, which I'm so grateful to her for.
And to be honest, I see my friend's kids whose moms don't work outside the home as deeply grounded and confident because of that choice. Not to say a working mom's kids won't feel the same — it's just my guilt and shame of working and missing out on Easton this week that is making me wonder if you can ever totally win in either scenario.
Before I ever thought of having a child, I could never have imagined giving up my independence and work-life. I recall thinking that I would not be able to deal with asking for permission, an allowance, and relinquishing experiences of my own just to be a good parent. I'd say to myself, "I know my mom was there and great because of that but she could have managed to do both."
I was so sure that I would never quit working — until after I gave birth to Easton, that is. I finally got it. I had that overwhelming feeling that I could never, EVER leave my child's presence. I just became so clear that I would never, EVER work again. It seemed clear as day that this was where true happiness lay. And that's what happened — for a little while anyway.
There are the obvious reasons of why I had to go back to work: savings, future planning, school … money, money, money! Oh the burden of not having a trust fund!
But there was more to it. I really love what I do and I missed it. I missed adult interaction. I missed travel and the unknown that comes with each new job. And I missed being challenged in my chosen profession so that I could keep learning, growing and achieving outside of my family dynamic.
But do you want to know the truth, Moms? Right now I'm just feeling bummed out by my desire to work. Like it's selfish or something. And I know that's BS but when you're a mom, you're rough on yourself sometimes.
The truth is, when you are a mom you demand perfection from yourself. Which frankly, I know is impossible. We simply can't be all places at all times nor all things to all people. But I know we want to be … and that pursuit can be so emotional.
Today, I want to be the perfect mom. But I'm not quite able to be … today anyway. I'll do better tomorrow, right moms? Or at least when the weekend rolls around and I can be 100% in mom-mode.
So the question of forgiveness comes up. Can we forgive ourselves for not being perfect? How are you feeling today ladies? A little less than perfect or are you being kind to yourself today?
PEOPLE.com readers, I love when you open your heart and share with me. Tell it to me straight, moms!
— Elisabeth Röhm
Robert Evans has photographed parties for Christina Aguilera and Jim Carrey, and is also known for photographing some of the biggest celebrity weddings in the last 10 years, including Tom Cruise and Katie Holmes, Brad Pitt and Jennifer Aniston and most recently, Shania Twain.