Jillian Michaels: Adoption 'An Incredibly Long Process'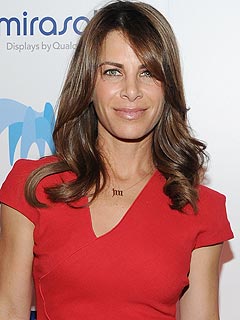 Jason Kempin/WireImage
When her final season with The Biggest Loser ends this month, tough trainer Jillian Michaels isn't planning taking it easy. She's heading straight overseas to visit the troops before joining the casts of The Doctors and Dr. Phil.
But despite all the activity, she says her main focus is going forward with her adoption plans.
"I'm in the midst of the adoption process at the moment," Michaels, 37, told PEOPLE at the American Society of Magazine Editors awards on Monday. "It is an incredibly long process."
Michaels confirms that she's applied to adopt from the Democratic Republic of Congo in a new pilot program. "I'm terrified that [the country] will close, so I just keep my fingers crossed and hope for the best and give it to God."

After recently turning in a dossier with all her paperwork, Michaels is now waiting for final approval and the next steps. "It's a waiting game," she said.
Michaels is keeping busy while she waits by traveling to the Middle East with the USO and working on an initiative to help soldiers' families.
"I want to go over, thank them, show them my appreciation and support," she explains. "And, simultaneously work on a campaign where we can literally support them with goods and supplies that they need to get by."
Not one to sit tight, Michaels is tackling impending motherhood with the same intensity that she brings to training and says she's not nervous about becoming a parent.
"I'm just ready. There's this line in When Harry Met Sally that I love more than anything: 'When you realize you want to spend the rest of your life with someone, you want the rest of your life to start right now.' And so, now that I know that I want to be a mother, I'm ready to be a mother right now. I'm excited, I'm nervous, I'm scared but I'm eager and ready for it when it comes."
— Asher Fogle