Cat Cora Copes with 'Mommy Guilt' In Writing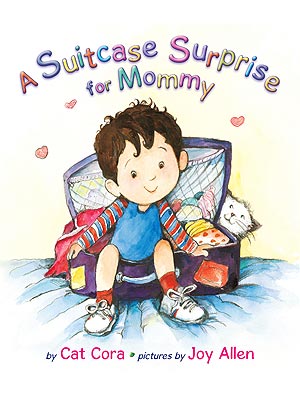 Courtesy Dial Press
With a successful career and expanding empire, Iron Chef Cat Cora has traveled the world, but her frequent trips have left one fan less than thrilled — 7-year-old son Zoran.
Before one such excursion, Cora and the eldest of her four boys came up with a new tradition, in which mom would take one of Zoran's toys along with her so he knew she'd always be thinking of him.
The experience inspired Cora to pen her first children's book, A Suitcase Surprise for Mommy, in stores now.
"It was one particular trip that he really didn't want me to go, and I was really trying to figure out how to soothe him and myself as well because I was having a lot of mommy guilt," Cora, 44, told PEOPLE.

"I got on a plane that day and literally wrote the book in like 30 minutes, because I was just missing him so much."
Cora — who is also mom to sons Caje, 4, Thatcher, 2, and Nash, 21 months, with wife Jennifer — also added the ritual is fast spreading to the rest of her family.
"Now that the book is published, I'm reading it to my 4-year-old as well," she said. "I think it makes it really special for him, and … for the kids, they have peace of mind that they've done something special and you're going to take it with you. It's good for the parent, and good for your children."
When not working, Cora brings her passion for cooking into the home, often having her little ones join her in the kitchen.
"What I do is I get them involved in the meal," she said of getting her kids to eat healthy. "I always give my kids a few options. Giving them the choice empowers them and makes them feel like they have more of an investment in the meal."
And when that doesn't work, Cora defers to an old trick her mom used on her.
"Have them taste everything once," she said. "Don't assume your kids aren't going to like it. You'd be surprised what kids will eat if you give them a chance."
With a full household, the couple has no plans to expand their family at the moment, but should they change their minds, Cora — who carried Nash the same time Jennifer was pregnant with Thatcher — would love to give birth again.
"The first thing we thought was, 'Oh my gosh, there's going to be tons of hormones in the house,'" she said, "but I think it really did balance out and we just really bonded over it… It was a great experience, and I'd do it again in a heartbeat if we didn't have four kids."
— Kiran Hefa