La La Anthony: Homemade Mother's Day Gifts Are the Best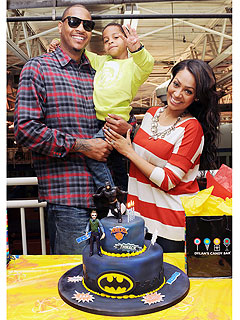 Humberto Carreno/Startraks
La La Vazquez Anthony has her own VH1 reality show and is married to Carmelo Anthony, one of the best players in the NBA, but the TV personality says to forget expensive jewels — her ideal Mother's Day includes a simple, homemade card from 4-year-old son, Kiyan.
"Usually my husband and my son will make a homemade card for me and that means more than a gift," she says. "I remember one year they did a video together for me on his computer and that's the kind of stuff you keep forever."
Anthony, 31, who recently relocated to Manhattan when her husband was traded to the Knicks, also has her fingers crossed for a weekend getaway with her two main men.
"We've been so busy working like crazy that we haven't had time to just get away and relax," she says. "I said, 'Let's just go to the Hamptons,' and he just kinda looked at me. They must be working on some master plan because I haven't been included in anything!"
But if not this weekend, Anthony, whose show, La La's Full Court Life, returns August 22, says she and her husband are looking forward to a trip to Europe this summer — and getting fully settled in New York.
"We've found a place and we're starting to get some of our own furniture in and making it feel like our home," she says. "It's slowly starting to feel better."
She's also spending a lot of time with her little one, whom she says takes after his homebody dad — and doesn't quite understand that his parents are celebrities.
"In his mind, everybody's dad plays basketball and he's like, 'Oh, there's Daddy! There's Kobe! There's LeBron! There's D-Wade!'" she laughs.
"He told me one day, 'I know why everyone wants to take a picture with you. Because you're pretty!' I said, 'Well, why does everyone want to take a picture with Dad?' And he said, 'Because he's tall!'"
And for now, she says, she's content with her family of three — though she's not totally opposed to expanding her brood.
"There was a time when I said I'd never have another child. I had a rough pregnancy and I didn't think I wanted to go through it again," she says. "But now I'm just saying, 'Not right now.' I haven't ruled it out completely!"
— Lesley Messer