Brooke Burke Refuses to Do Dishes on Mother's Day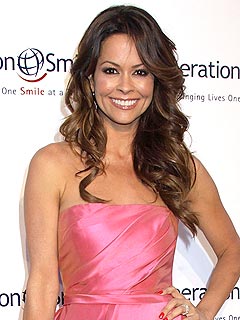 Sonia Moskowitz/Getty
This Mother's Day, you can bet Brooke Burke's not doing the dishes!
Her fiancé, actor David Charvet, has a relaxing day planned for the Dancing With the Stars host and mother of four.
"I'll go to the fish market early in the morning," he told PEOPLE at the Operation Smile gala Thursday in New York. "Come back with whole branzinos, and cook a barbecue."
Both Burke and Charvet's mothers, along with his sister and her kids, are coming over to their house for a big, afternoon barbecue.
"My favorite fish, my favorite meal, and I don't have to cook," Burke, 39, said. "None of the women have to cook or do the dishes."

"Whoa, whoa, whoa," Charvet, 38, said playfully. "I said I was going to cook. I didn't say that I was going to clean."
"I'm not doing dishes on Mother's Day," Burke replied with a smile.
Even though the holiday is still a couple days away, Burke already received a gift from her youngest child, Shaya Braven, 3.
"I got the cutest gift from my son for Mother's Day," she said. "He gave me a painted handprint on a tile. He wrote on it, and it's so cute."
The busy mom can't decide on her favorite part of motherhood.
"So many things," she said. "My children keep me real and keep me honest. And I'm madly in love with my son and all my daughters. I'm in love with [David], too, but with them it's different and special and raw and uncensored."
— Asher Fogle