Ivanka Trump: Baby Kicks Make Pregnancy 'Real'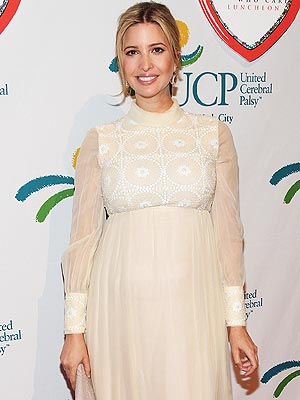 Taylor Hill/FilmMagic
Ivanka Trump's unborn child's foot movements bring impending motherhood to the forefront.
"This is definitely something you can't imagine what it would feel like so the little kicks, the movements, it makes it all the more real," Trump told PEOPLE at the 10th Annual Women Who Care Luncheon, held Thursday in N.Y.C. and benefitting United Cerebral Palsy.
The Apprentice star, 29, married New York Observer owner Jared Kushner in 2009 and the couple is thrilled to be expecting their first child in July.
"I only have two months to go so we're very, very excited," she shared. "Generally I think I've been fortunate because I've been feeling well through the pregnancy."

However, Trump admittedly realizes that will all change dramatically once baby arrives!
"I feel great. I've been really, really lucky so I think the sleepless nights will come when the baby's born!" she laughs.
— Mary S. Park