Elisabeth Röhm's Blog: Are You A Naughty Or Nice Mom?
Elisabeth Röhm, best known for her role as Serena Southerlyn on Law & Order, has a busy 2011 ahead of her.
The actress, 38, can be seen on the big screen in the upcoming films Chlorine, Transit and Abduction, as spokesmom for Juno Baby, and can be found online on Facebook and @ElisabethRohm on Twitter.
In her latest blog, Röhm reflects on those pre-child days of freedom before the arrival of daughter Easton August, 3 — and wants to hear (and see!) all about yours. Share your favorite stories from your past and reminisce about the woman you were before you were "Mom."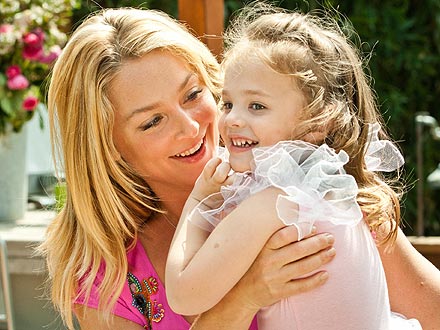 Robert Evans

Stop!
Before you read another word of this blog today, I want to be clear that this week's blog is not like the usual ones. You will find no words of advice, reflections on the latest vaccine news, or confessions on my flawed parenting. Nope — this week, let's talk about ourselves (it's been a while since we did that). Let's indulge a little and look back into our sordid pasts. Trust me, the kids will be alright!
It's not that I'm fantasizing about my former self (okay, maybe just a little) but I'm finding great humor in my transformation these days. For instance, just take a look at exhibit A: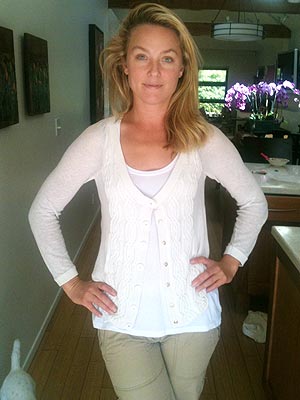 Courtesy Elisabeth Röhm
I have oatmeal stuck to my pants, I clearly did 'drop-off' without putting a brush through my hair or even a touch of lipgloss. It dawned on me as I was doing the dishes this morning that I might even know just a little bit more about the latest Sponge Bob plot line than the most recent developments on Osama Bin Laden's death. And please don't even get me started on my chipping pedicure.
No, I'm not as concerned as I used to be with outward things. But, no bother! I love this new parenting life that is no longer about me. I'm not longing for those hangover mornings or the wild nights that were a bit empty that proceeded this domestic diva chapter. But it doesn't hurt to reminisce, just a little!
For instance moms — when was the last time you took a road trip and just got out of town … just took off without a care? With maybe a friend or a random boyfriend, pre-husband? The top down, wind blowing through your hair (I know it sounds a little corny), the music blasting at a decibel that now you might think is a tad too loud?
I'm not saying we're old or that this flashback is the be all and end all. BUT — my, how life has changed, huh?!
Tell me the truth ladies — do you ever sit back and recall the days of freedom with just a touch of longing? What about that period in your lives stands out the most to you? Is it the fact that 'quiet' no longer exists or that a lost afternoon is as familiar to you as an ancient fossil from the Ice Age?
Oh and let's not even get into those yummy lost weekends … forget about it!! Those lost weekends are definitely worth a little bit of reflection and fantasizing. While we're here, tell me all about them so that I can live vicariously.
I know that's why we all still have a few single friends left. They are busy trying to get married while we are secretly enjoying hearing about their lascivious behavior.
Moms, have you noticed that your fashion sense has changed? Just a bit? I'm not saying that we're not all still super sexy, but let's be honest, even if it's just on this blog for this moment in time. We may have lost a bit of our flair for fashion, as they say. I'm submitting exhibit B: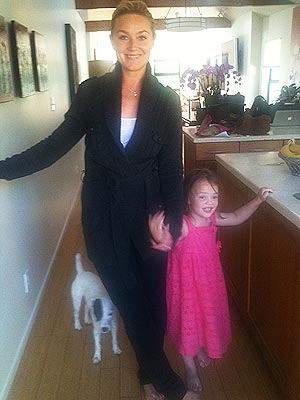 Courtesy Elisabeth Röhm
My oft-worn mom costume. It's alright but it's certainly not hot! And to tell you the truth, I'm okay with that. I do love this new, exciting and certainly unpredictable chapter of parenthood. Okay, wait hold on, maybe exciting and unpredictable aren't the right words. More like safe and predictable. But I love it too.
So, let's table the talk about superior parenting, spanking, learning and our usual mom-debates and turn back the hands of time. Come on, let's reminisce about our former selves where every hour belonged to us and we didn't have to be accountable to anyone. Let's be selfish for a minute and talk about ourselves.
Which leads me to a favorite topic … sex. How are we doing with sex these days, ladies? Are we having it at all? A little? Too much? I mean seriously ladies, I know that whole subject has taken a turn too now that we are Mommies. I'm not saying I want to have a fling to add a little excitement to my life, but let's be honest — sex is not what it used to be. It changes, that's all.
Am I right? I don't think there is anything wrong with us saying that life has changed and that it's not such a wild ride anymore. I don't think there is anything wrong AT ALL with us admitting that in exchange for this blissful, deeply loving and dependable chapter in our lives that we gave up not just something, but most things that used to be us.
And let me be clear, I have no desire to get drunk in a bar like I might have in the bygone era but I know for a fact that I haven't seen the sunrise in three years and that I kinda miss, from time to time — the freedom and lack of responsibility to do so if I choose. I've either been pregnant, parenting or working. Sound familiar?
I'm not saying we're martyrs, but we've sacrificed a lot since we became moms. True? So, even if we can't go back to the way we were (I don't even want to) or do something really crazy that makes us feel alive again, let's spend a little time here talking about some of those highlights from when we were wild and free. It may just make us feel all shiny and new again and give us that old 'twinkle in the eye.'
I would love to see your own mom costumes — post some pics for me. Moms, tell me about your former selves. Were you naughty or nice?
— Elisabeth Röhm
Robert Evans has photographed parties for Christina Aguilera and Jim Carrey, and is also known for photographing some of the biggest celebrity weddings in the last 10 years, including Tom Cruise and Katie Holmes, Brad Pitt and Jennifer Aniston and most recently, Shania Twain.