Busy Philipps: Daughter Birdie Is a 'Chatty Cathy'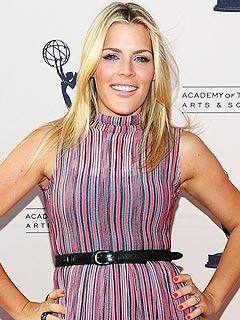 Angela Weiss/Getty
After two seasons of playing sassy-mouthed Laurie on Cougar Town, Busy Philipps knows a thing or two about being funny. But if you ask the actress, it's her daughter Birdie Leigh, 2½, who's the real comedienne in the family.
"She says funny things all the time," Philipps tells PEOPLE. "The other day, she was telling me that her older friend was telling her the story of Harry Potter, which is about this lizard that doesn't know that he's a lizard and then he has to go to special lizard school. I was like, 'He's not a lizard Birdie, he's a wizard.'"
Describing her as a "chatty Cathy," the actress says others have pointed out it's pretty clear where Birdie gets her "flair for the dramatic" from.

"I think a lot of people would say personality-wise, she sort of takes after me," Philipps says. "But occasionally, she gives me a look that is so my husband [screenwriter Marc Silverstein]."
In fact, some of Birdie's best work often involves her expressions, which the actress admits she occasionally recreates on set.
"Some of the faces that I make I feel like I have ripped directly from my daughter," she says. "She makes unbelievable faces when she's listening to people talk, sort of scrunched up and not the most attractive faces. I feel like I do impressions of her a little bit when I'm working."
Lucky for Philipps, inspiration is usually nearby, with Birdie being a frequent visitor to the Cougar Town set, where she often plays with costar Courteney Cox's 6½-year-old daughter, Coco.
"Coco is so sweet, and really takes care of Birdie," says Philipps. "She's really inclusive and sweet to her and holds her hand and gives her hugs."
The show's cul-de-sac crew is a tight-knit group, and will probably make an appearance at the star's upcoming Cinco de Mayo bash.
"It's my favorite holiday," says Phillips, who has partnered with Pepto Bismol to help fellow partiers celebrate by smashing their own piñatas at Pepto's YouTube page. "Any excuse to have a party with delicious food and drinks is a good one. Margaritas and chips and salsa, bring it on."
With summer drawing closer and Cougar Town's second season already wrapped, Philipps is enjoying this time with her daughter – who turns 3 in August – before she begins preschool in the fall.
"I think all parents think that whatever age their kid is at is the best one, but I'm pretty sure this is the best age," she says. "I'm excited for her to start preschool, but I'm a little sad. Baby days are gone."
— Kiran Hefa