January Jones Will Be a 'Great Mother,' Says Mad Men Costar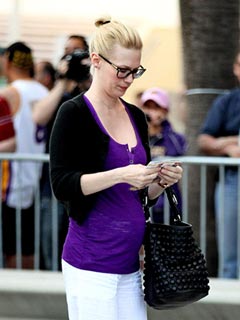 Splash News Online
January Jones's recent pregnancy announcement may have come as a surprise to some – but not necessarily to those close to her.
The actress, who is expecting her first child in the fall, has talked about wanting to become a mother for some time.
"It's something that she's wanted to do and that she's excited to do," Jones's Mad Men costar Aaron Staton told PEOPLE at The Creative Coalition and WWE's "be a STAR" launch in Washington, D.C. on Friday.
"January is such a sweet person," Staton said. "I think she's an honest person. I think she's really going to be a great mother."

Staton, who is dad to 10-month-old son Beckett, doesn't think Jones, 33, will need much advice when it comes to motherhood.
"So much of it is natural," he said. "It's sort of intimidating, but so much of it comes naturally when you meet the kid."
— Helin Jung