BumpWatch: Kate Hudson's Animal Magnetism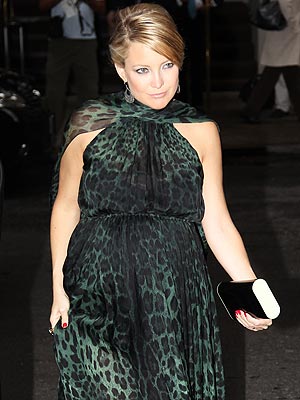 Giovanni Arnold/Splash News Online
Meow!
Newly engaged Kate Hudson boldly camouflages her baby bump Thursday with a billowing green leopard-print Dolce & Gabbana dress as she stepped out to support mom Goldie Hawn at her MindUP charity event at Manhattan's Metropolitan Club.
Sounds like the Something Borrowed star, 32, may be expecting a mini-Goldie come delivery time this July.
"I keep saying 'she,' but she's so nuts in here, she's so wild. I kinda feel like it's got the Hawn gene — my mom's lineage for sure. Dancing every day," Hudson said last week.
RELATED: Kate Hudson 'Can't Believe' How Fast Pregnancy Has Gone