Kitty Baby Love Crayons Are Purr-fect for Little Hands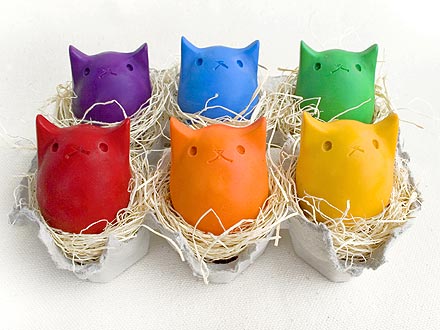 Courtesy Kitty Baby Love
Try as they might, little hands just can't do all the things that big hands can. That's why Portland-based parents Sara Chun and Ben Cavalcanti created Kitty Baby Love, egg-shaped kitty crayons that fit perfectly in the mini digits of young aspiring artists.
In 2009, the couple found a box of old crayons and embarked on a mission to turn them into something their newborn son Mikah could grab on his own. It took them a year to perfect their design, but now the once-unemployed pair run their business from home, making their adorable kitty crayons by hand by re-melting Crayola crayons. They're developing a new eco-blend of soy and beeswax crayons, which they hope to launch by Christmas.

Because of their shape, these colorful cuties last longer than regular crayons — and they're more earth-friendly because there isn't any wrapping paper to throw away. Kitty Baby Love crayons are such a success — "We hardly have time to do anything else," Chun shared — that the couple now makes meow-worthy greeting cards and candles for big kids, too.
See more pet-inspired products on PEOPLEPets.com:
Glam Up Your Walls with a Custom Portrait — of Your Pet
Etsy Fave! Skateboards Get a Second Life as Feeders for Your Dog
— Amy Jamieson