Elisabeth Röhm's Blog: Being Safe Without Being Scary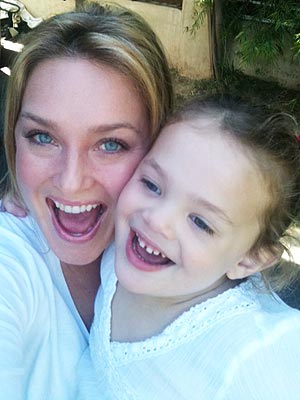 Courtesy Elisabeth Röhm
Elisabeth Röhm, best known for her role as Serena Southerlyn on Law & Order, has a busy 2011 ahead of her.
The actress, 38, can be seen on the big screen in the upcoming films Chlorine, Transit and Abduction, as spokesmom for Juno Baby, and can be found online on Facebook and @ElisabethRohm on Twitter.
In her latest blog, Röhm discusses growing up without a sense of 'stranger danger' — and what it means for today's friendly kids, especially Easton August, 3, her daughter with fiancé Ron Anthony.

The world is sadly becoming a scary place for kids. I feel like we are living in a police state. I mean, what the h—? Our kids are simply terrified to talk to strangers. Seriously, have you tried it lately? Have you walked through a grocery store and said to a little girl, "What a pretty dress you're wearing!" and gotten a super-duper big smile in return? I don't think so! Maybe a reserved, "Oh, thank you," from the mother as the child anxiously looks at the parent as if to say, "A stranger is talking to me … what do I do?"
Or have you been at the park when you're there with your little ones and noticed that the other children stick like glue to their parents or each other? They just don't seem likely to talk to another mother who is only being friendly, let alone a father. At the park the other day I said to a little girl, "You are just gorgeous!" Her eyes widened like pies as she looked at me in abject terror. Come on, I know I'm a weird actress type but I can't be that scary, right?
So I started talking to Ron, my legion of mom friends, Aunt Lolly and the rest, all whom agreed that they too have seen this epidemic. If you even look sideways at a kid these days, they just go stiff and seem to be at a complete loss for words. I get it, they've been trained by us not to talk to strangers, at all! A friendly "hello" these days or an observation of a child's appearance is grounds for terror? WTF?
I'm truly shocked by this observation. I mean, come on moms! Why do we have to drill such fear into our kids? Well, I think we all know the answer to that one.
I'm sure by now you're all used to my childhood anecdotes (haha) so I'll keep this one ultra-brief! I grew up in upstate New York so it's impossible to really compare it to L.A. or another urban/suburban environment. It was as close to "COUNTRY" as you can get without being in the wilds of Tennessee or the outskirts of Alaska! Seriously though, part of its charm are the endless acres of forests, and back when I was a kid everyone seemed to have a little bit of land.
It was amazing! The children, myself included, would disappear in the morning only to return for lunch and then they'd be back out again until dusk. I don't recall my mother ever calling 911 (I don't think there was even such a thing back then) or sending the dogs out to search for me EVER! She didn't live in fear that I would be abducted, molested or worse … all of the above.
It was just a different time. Kids were allowed to be kids and roam, explore, get into harmless trouble and GASP! even talk to strangers. And sadly those times are gone now, for the most part.
The other day my daughter and I went to have lunch with a new friend of mine. As we approached her — even before I got a chance to hug her — Easton threw out her arms and gave her big ole' fashioned squeeze. As she pulled out of the spontaneous embrace, she looked at my friend innocently and said, "What's your name?"
The hairs stood on my neck and I must have turned white because I could physically feel the blood draining from my body. My new friend looked at me and said, "Wow. She's so friendly!" But the emphasis of the statement made it more like a question. Like, "Why is she so friendly?"
My friend is also a mother and at lunch we talked about the dangers of Easton and other children being that friendly with strangers (even if the parent is right there). Because let's face it … children get stalked and it is a bizarrely twisted world out there sometimes!
Now we know — our awareness has changed what with the news, Amber alerts, and TV shows that highlight violence towards children. It's all out in the open now! No wonder moms everywhere are drilling it home. But our moms never had that much information, therefore making it a non-issue to be a confident, friendly and outgoing kid. This makes me seriously upset! Our kids have to live in fear.
Gone are the days of lost afternoons. Gone are the sweet gestures of being at the park and accepting a shared snack from another mother (because she's a stranger). A certain connection between people is being lost. And it sucks!
We have laughingly and with a hint of pride called Easton "The Mayor". I kid you not, but everywhere we go she says "Hi" to everyone she sees — and I mean everyone! I'll be pushing the stroller down the sidewalk as we pass a person by and she'll be leaning out saying, "Hi" with a huge smile spread across her face. We'll be driving in the car and her window is down at a red light — "Hi" she says, waving and giggling at some stranger.
She is incredibly affectionate, loving, friendly, tall (for her age) and dare I say quite lovely — a killer combo as she gets older. A killer combo now? Could be, right moms? It breaks my heart to see fear in others, to create fear in anyone but most especially my child.
The question today, PEOPLE.com readers, is what other option do we have? Really? What else can we do when we know so much and see so much violation out there?
Weigh in ladies! I'm looking forward to our classic pow-wows!
— Elisabeth Röhm